Andalucia Golden Triangle AC1
Sevilla - Cordoba - Granada
Based on 7 nights self-drive independent tour in Spain
The classic tour of Moorish Andalucia. Discover the cities of the Sultans of El Andaluz and marvel at their magnificent heritage – the finest Arabic architecture of western Europe, vast landscapes of olives and oranges and narrow lanes filled with soulful Flamenco music. Here you can feel the ebb and flow of history, the Reconquista of the Catholic Kings and the riches of the Americas flooding in via the Guadalquivir river.
Tour Highlights:
Cathedral & Alcázar of Sevilla
Great Mosque of Cordoba
Granada's Alhambra Palace & Albaicin
World renowned Andalucian hospitality
Finest olive oil & cured ham in the world
Flamenco music, fiestas & fine sherries
More about Andalucia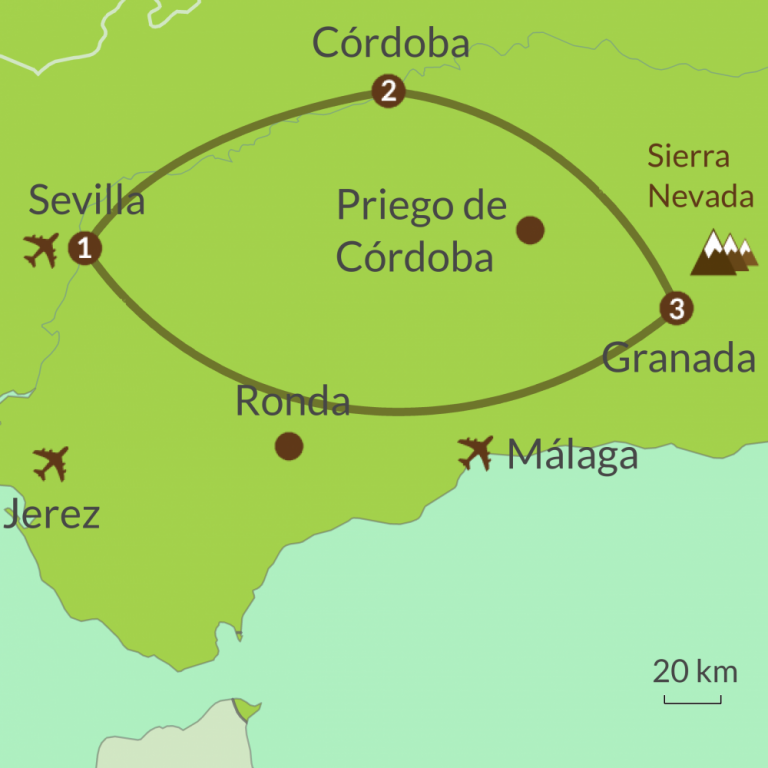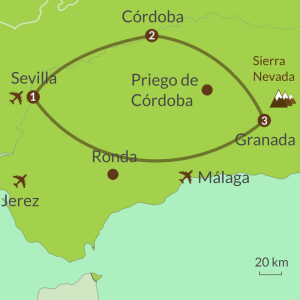 £700 p/p
Indicative mid-season price for 7 nights (including car hire – flights not included).
Full details (PDF)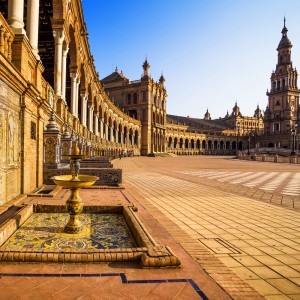 Day 1 to 3 – Sevilla
3 World Heritage Sites in the historic town centre!
The Giralda tower & Cathedral – the world's largest Gothic structure
The magnificent Alcázar Royal Palace dating to the 9th Century
Historic Santa Cruz, lively Triana, Plaza de España
Authentic Flamenco, tapas bars with hand-cut jamón…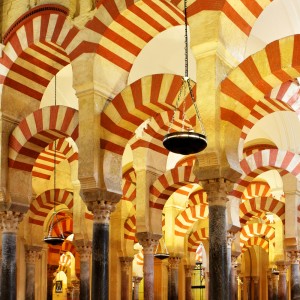 Days 4 & 5 – Cordoba
The Great Mosque – immense, awesome and stunningly beautiful
Lose yourself in the Jewish Quarter's winding lanes
Relax in the Moorish bath houses or with a glass of Montilla Moriles
Beautiful 'patio' courtyards festooned with geraniums
Roman remains from the city's stint as capital of southern Iberia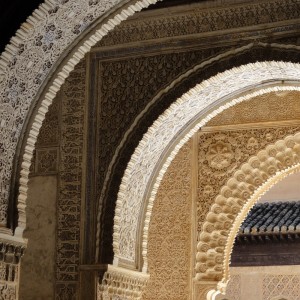 Day 6 & 7 – Granada
The Alhambra Palace – city of the Nasrid Sultans
Atmospheric Albaicin with night time views to the Alhambra
Cathedral, resting place of the Catholic Kings
Wonderful bars, incredible tapas – many free!
Take a trip to the Sierra Nevada, mainland Spain's highest mountains
The itinerary includes the following:
Accommodation in our listed hotels – 2 sharing 1 std. double ensuite, B&B
Economy 4dr car hire
Guide book and map of Andalucia
Instructions to find all accommodation & regional road map
Not included:
Flights – but we are able to advise
One-way car hire charges, where applicable (see your quote email)
The following car hire extras – these can be added at pick-up point

extra driver
child seats
GPS

Garage parking where applicable (mostly city stops) – please ask us about parking charges.
Getting there
A round tour with many flights from points throughout the UK – the best options are:
From Heathrow: Malaga with BA or Sevilla with Vueling
From Gatwick: Granada, Jerez, Malaga or Sevilla with Easyjet
From Stansted: Jerez, Malaga or Sevilla with Easyjet or Malaga with Ryanair
From Luton: Malaga with Easyjet or Ryanair / Sevilla with Ryanair
From Manchester: Granada with Easyjet, Malaga with Easyjet or Ryanair and Sevilla with Ryanair
From Bristol: Malaga and Sevilla with either Ryanari or Easyjet
From Dublin: Malaga with Ryanair and Aer Lingus
From Edinburgh: Malaga with Ryanair or Jet2 and Sevilla with Easyjet or Ryanair
Other UK airports available – ask us about these.
NB: Flights are not included
If these flights don't suit the route can be adapted to suit many different options including, for example, starting or finishing in Madrid. Please contact us for advice.
Getting around
For passengers travelling by air we will include a hire car as part of the package. Normally we include a 4 door economy class car but please let us know if you would like something different.
Alternatively you can use the train to get around. Please ask us about this option.
In either case we will provide full instructions to arrive at each hotel, complete with GPS co-ordinates, as well as a map of the area
AITO reviews
… just back from the fantastic bespoke tour of Andalucia that you organised for us and are both really delighted with the whole experience.
We drove about 2300 km in all and loved the experience of the great Spanish roads.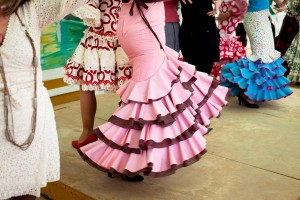 Ronda was magnificent and the royal palace of Alcazar was a nice counterpoint to the beauty of the Alhambra.
Your organisation, Vamoos app and advice were invaluable.
More about Andalucia