Discover Andalucia Tour AC2
A circular route in central Andalucia
Based on 14 nights self-drive independent tour in Spain
The Guadalquivir river, into which flowed the riches of the Americas, forms the backbone of this wonderful two week tour of Andalucia.
The circular route heads from chic Málaga and Granada deep inland to Ubeda, before following the river through Córdoba and Sevilla, south towards Cadiz then picking across the Grazalema mountains and Ronda, back to the start.
You'll find great cities, high Sierra mountains, endless orange and olive groves as well as the legacy of great civilisations from Tartesians to the Moors – the only constant being the famous Andalucian vitality, humour and hospitality!
The full route takes two weeks but you can do as little, or as much, as you like.
Tour Highlights:
Malaga – Mediterranean seaside chic
Granada´s Alhambra Palace
Renaissance gems Ubeda & Baeza
Cordoba's magnificent mezquita
Carmona & Sevilla, rich moorish heritage
Cadiz, white beaches and sherry
Grazalema, Ronda & the 'Pueblos Blancos'
More about Andalucia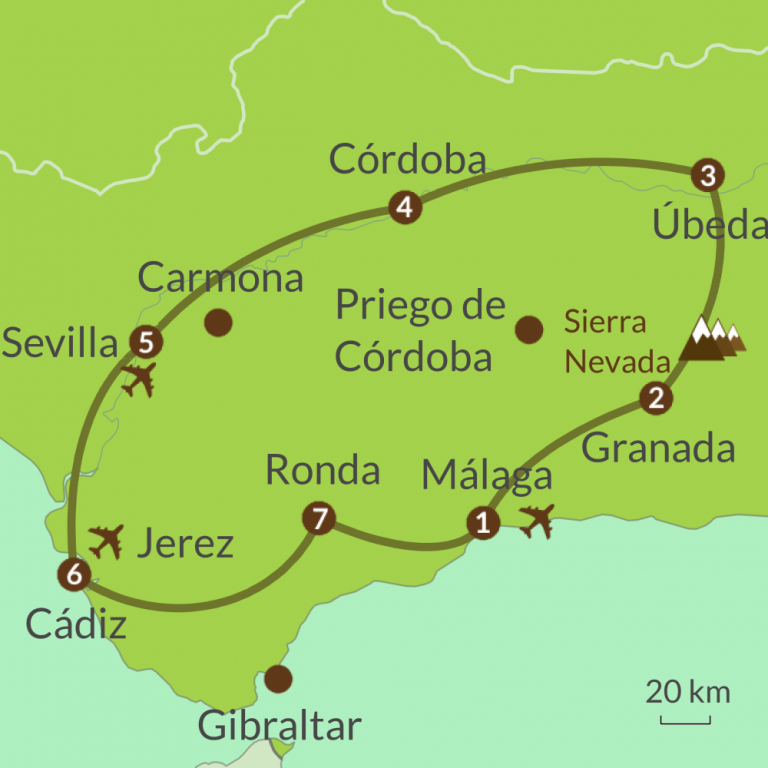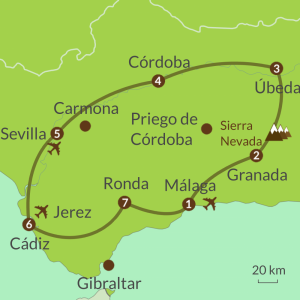 £1450 p/p
* Indicative mid-season price for 14 nights (including car hire – flights not included).
Full details (PDF)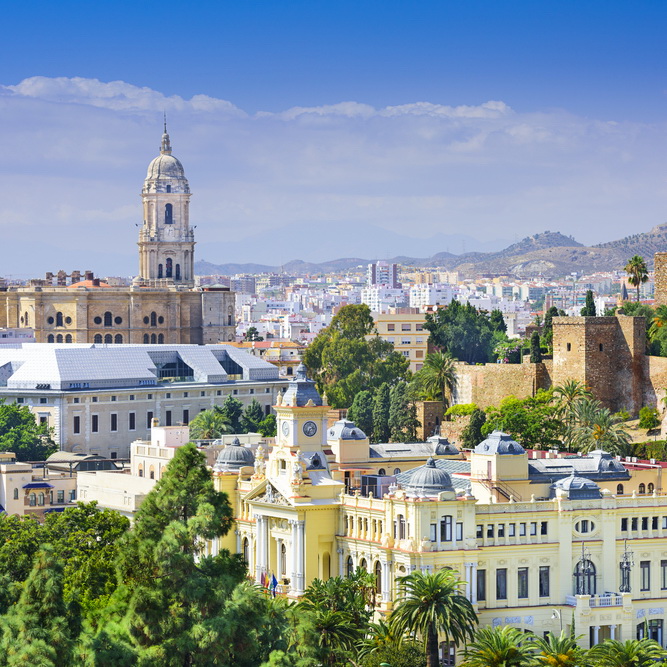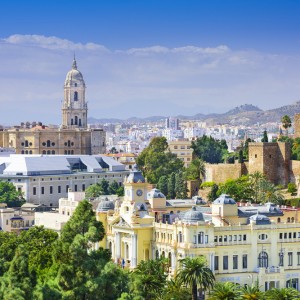 Day 1 & 2 – Malaga
Eat, shop or stroll in style in the stylish new port area
Thyssen, Pompidou – art galleries galore
Tapas bars, street music, Flamenco shows
Dip into Axarquia – stunning scenery, pretty villages
Visit Antequera, Moorish heritage, unique 'Torcal' landscape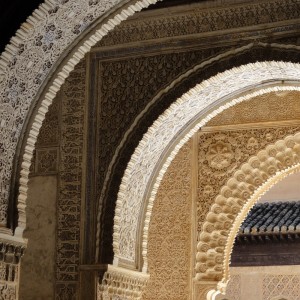 Day 3 & 4 – Granada
The Alhambra Palace – city of the Nasrid Sultans
Atmospheric Albaicin with night time views to the Alhambra
Cathedral, resting place of the Catholic Kings
Wonderful bars, incredible tapas – many free!
Take a trip to the Sierra Nevada, mainland Spain's highest mountains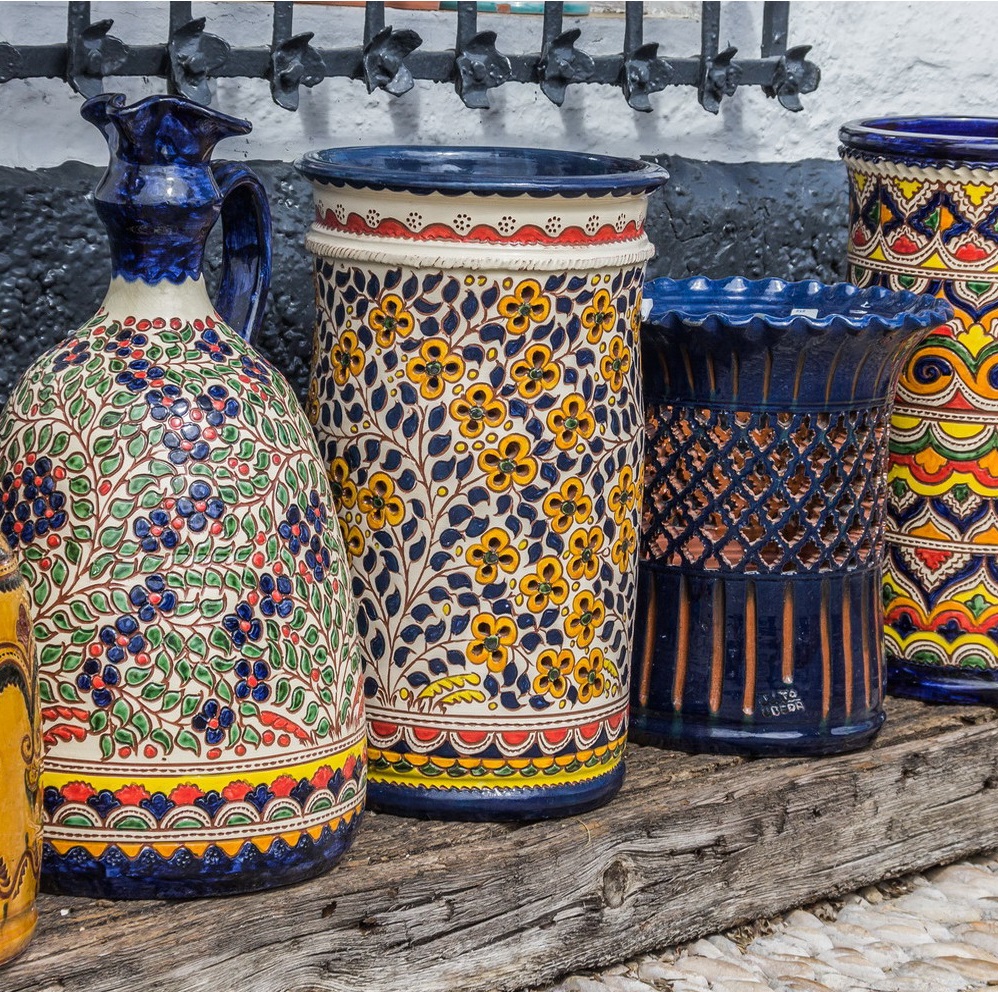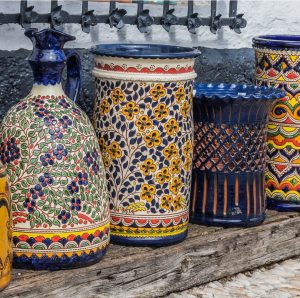 Days 5 & 6 – Ubeda, Baeza & Cazorla
Spain's finest Renaissance architecture
UNESCO World Heritage Site since 2003
Sierra de Cazorla, Spain's largest nature reserve
Source of the Guadalquivir at the heart of the park
Traditional 'Alferería' pottery – moorish in origin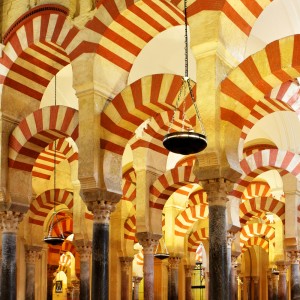 Day 7 & 8 – Cordoba
The Great Mosque – western Europe's largest Islamic building
Lose yourself in the Jewish Quarter
Marvel at the patios overloaded with potted geraniums
Medina Azahara archaeological site of on the outskirts
Montilla – Moriles wines – handle with care!
Roman ruins of Hispania Ulterior & Baetica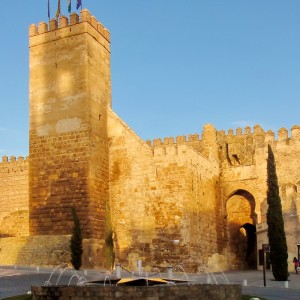 Day 9 & 10 – Sevilla
Gateway to the New World & all its riches
3 World Heritage Sites in Sevilla's Old Town!
Colossal Cathedral, Moorish Alcázar Palace & Giralda Tower
Carmona, Sevilla in miniature, just half an hour away
Thriving Flamenco culture & lively atmosphere of Barrio de la Santa Cruz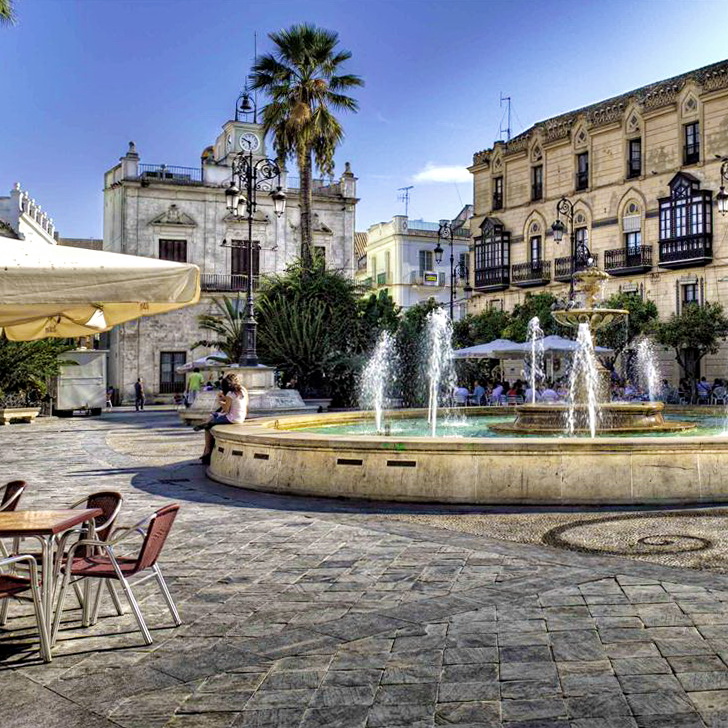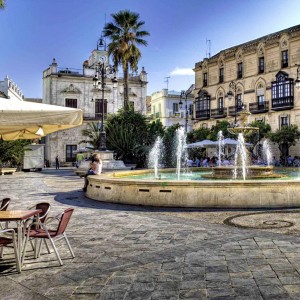 Day 11 & 12 – Cádiz
Cádiz, steeped in history, Europe's oldest city
Doñana National Park one of Europe's best bird reserves
Spectacular white beaches
Jerez; famous sherry wines and dancing horses
Moorish pueblos blancos, Véjer, Medina Sidonia Bolonia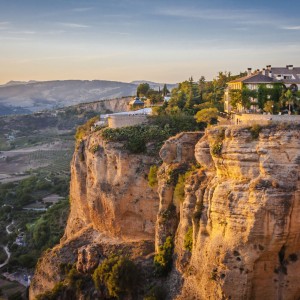 Day 13 & 14 – Ronda & the Grazalema mountains
Hemingway's Ronda, the most famous of the 'Pueblos Blancos'
Spain's oldest bullring
Wonderful wildlife and birdwatching in the Sierra de Grazalema & Sierra de las Nieves
Pueblos Blancos: Grazalema, Olivera, Arcos de la Frontera, Zahara de la Sierra
The itinerary includes the following:
Accommodation in our listed hotels – 2 sharing 1 std. double ensuite, B&B
Economy 4dr car hire
Guide book of Andalucia
Personal Travel App including highlights, weather forecast and restaurant suggestions for all areas en-route
Instructions to find all accommodation
Not included:
Flights – but we are able to advise
One-way car hire charges, where applicable (see your quote email)
The following car hire extras – these can be added at pick-up point

extra driver
child seats
GPS

Garage parking where applicable (mostly city stops) – please ask us about parking charges.
Getting there
A round itinerary, with many flights options from points throughout the UK – the best options are:
From Heathrow: Malaga with BA or Sevilla with Vueling
From Gatwick: Granada, Jerez, Malaga or Sevilla with Easyjet
From Stansted: Jerez, Malaga or Sevilla with Easyjet or Malaga with Ryanair
From Luton: Malaga with Easyjet or Ryanair / Sevilla with Ryanair
From Manchester: Granada with Easyjet, Malaga with Easyjet or Ryanair and Sevilla with Ryanair
From Bristol: Malaga and Sevilla with either Ryanari or Easyjet
From Dublin: Malaga with Ryanair and Aer Lingus
From Edinburgh: Malaga with Ryanair or Jet2 and Sevilla with Easyjet or Ryanair
Other UK airport available – ask us about these.
NB: Flights are not included
Getting around
For passengers travelling by air we will include a hire car as part of the package. Normally we include a 4 door economy class car but please let us know if you would like something different.
AITO reviews
Excellent planning and communication, listened to what we wanted.
Worth every penny...the holiday exceeded expectations. It was not cheap but was excellent value for money with great service...would definitely use them again.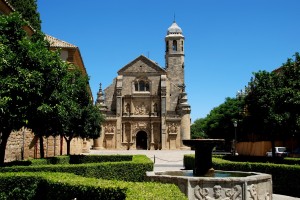 Fascinating and fun
The itinerary was well-planned and the accommodation well-selected. Everything lived up to our high expectations. The itinerary took us to places we wouldn't have thought of, which added to the whole experience.
Very personable and helpful with telephone enquiries. No hitches at all with the arrangements they made on our behalf. Very pleased with their recommendations.
Touring Andalucia – The tour worked liked clockwork
Casas Cantabricas did an excellent job in planning our trip, and kept us well informed. The Vamos app was great help wish all operators followed suit.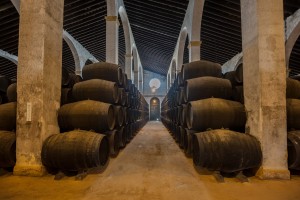 Fantastic bespoke tour of Andalucia you organised for us. Both really delighted with the whole experience.
Your organisation, Vamoos app and advice were invaluable.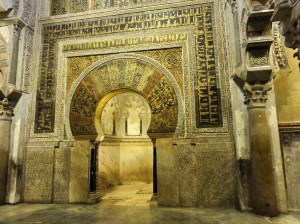 We drove about 2300 km in all and loved the experience of the great Spanish roads.
Ronda was magnificent and the royal palace of Alcazar was a nice counterpoint to the beauty of the Alhambra.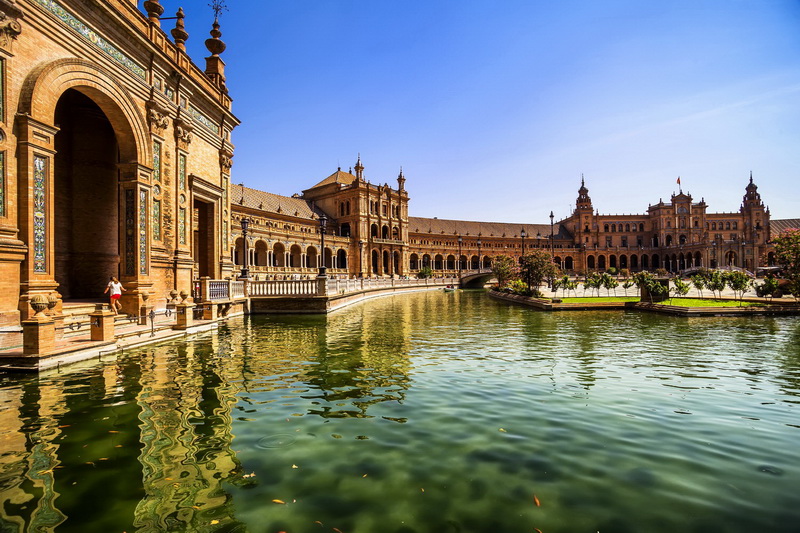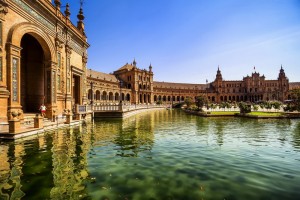 From the start the team at Casas were both friendly, efficient and knowledgable, with their excellent advice we had a father and son road trip that was perfect. Interesting, exciting, memorable and well planned with some unusual and delightful hotels we would never have discovered on our own. See full review.
Very friendly, great depth of knowledge about Spain, reasonably priced, helpful developing our tailor made tour route, brilliant app with all the details of our trip in electronic format.
Just right. The itinerary was thoughtfully put together. Only max of two hours in the car between cities, good small hotels centrally with parking, so no need to use the car on arrival. Add on two nights in the beautiful Andalusian countryside to finish off, and we both enjoyed an excellent holiday. Casas: Personal, efficient and helpful. – See full review.
A fantastic and memorable holiday
We had a 2 week holiday in Andalusia staying in 6 areas. Each area had something different and special to offer. We have never been to Spain before but have enjoyed it so much that we will return one day and most probably use Caminos by Casas Cantabricas again. They were excellent.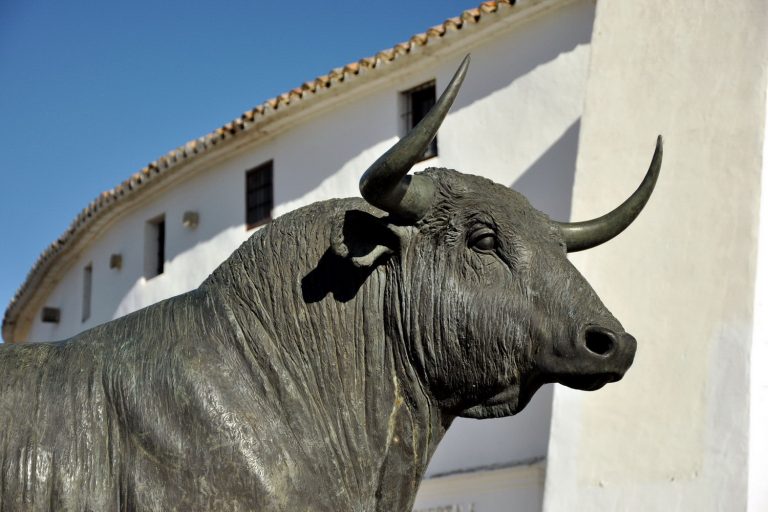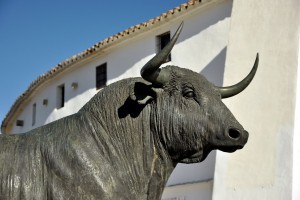 We have just spent 2 glorious weeks touring Andalucia. It is an area we have wanted to explore since visiting the Alhambra last year, and when we met Andy at the Destinations show in Olympia we decided he had taken all the hard work out of organizing such a trip. We were not disappointed.
Caminos by Casas Cantabricas have been excellent. Everything had been well thought out when planning our 2 week holiday.
More about Andalucia