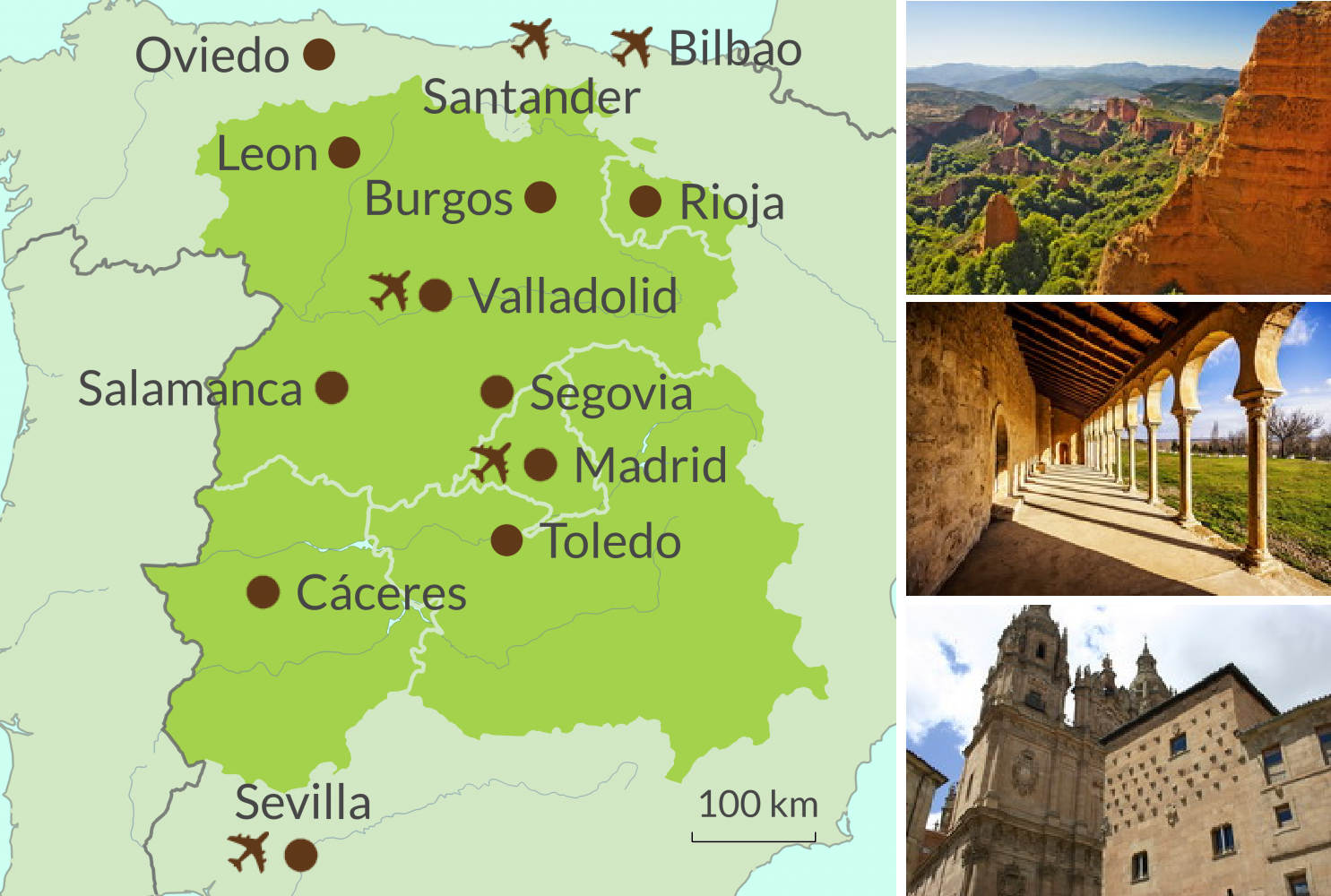 Madrid & Inland Spain holiday destinations
The Madrid & Inland Spain touring area is limited by the Cordillera Cantábrica mountain range to the north and Andalucía to the south with the Portuguese border to the west and the Mediterranean 'costas' to the east.
At the region's hub you'll find Madrid, the Spanish capital, famous for its lively tavernas and its wonderful world-class art galleries, surrounded by three main regions:
To the north Castilla y Leon, Spain's largest region, cut through by the River Duero on its way to become the Douro in Portugal, is a truly vast province dotted with monumental heritage cities an encircled by mighty mountain ranges. Salamanca, León, Burgos, Valladolid and Segovia offer  splendid World heritage architecture whilst the Sierras of Gredos, Francia, Guadarrama and, in the north, the Picos de Europa offer breathtaking mountain scenery and adventure.
West of Madrid lies Extremadura, the land of the 'Conquistadores', with yet more historic cities including Plasencia, Cáceres and Trujillo as well as Mérida with its awesome Roman Ruins. Follow the Via de la Plata or make a pilgrimage to Guadalupe or get back to nature in the Monfrague Nature Park – a mecca for bird-watchers from all over the world.
Castilla La Mancha, where Don Quijote tilted at the famous windmills, lies south-east of Madrid. Don't miss its historic capital Toledo, 'the city of the three cultures' and birth place of the famous El Greco artist or Chinchón with its wonderfully evocative main square. Further east Cuenca with its 'hanging houses' is also well worth a trip.
Our Inland Spain touring holidays offer magnificent heritage, wild unspoilt landscapes, monumental cities and world-class wines and gastronomy. From the walls of Ávila to the Roman Aquaduct of Segovia; the Sierra de Gredos to Burgos Cathedral, the Via de Plata and the immense plains of the Meseta itself, everything here is on a grand scale indeed, whilst retaining an authenticity and warmth hard to find elsewhere.
Places to visit in Inland Spain
Main Highlights & cities in Inland Spain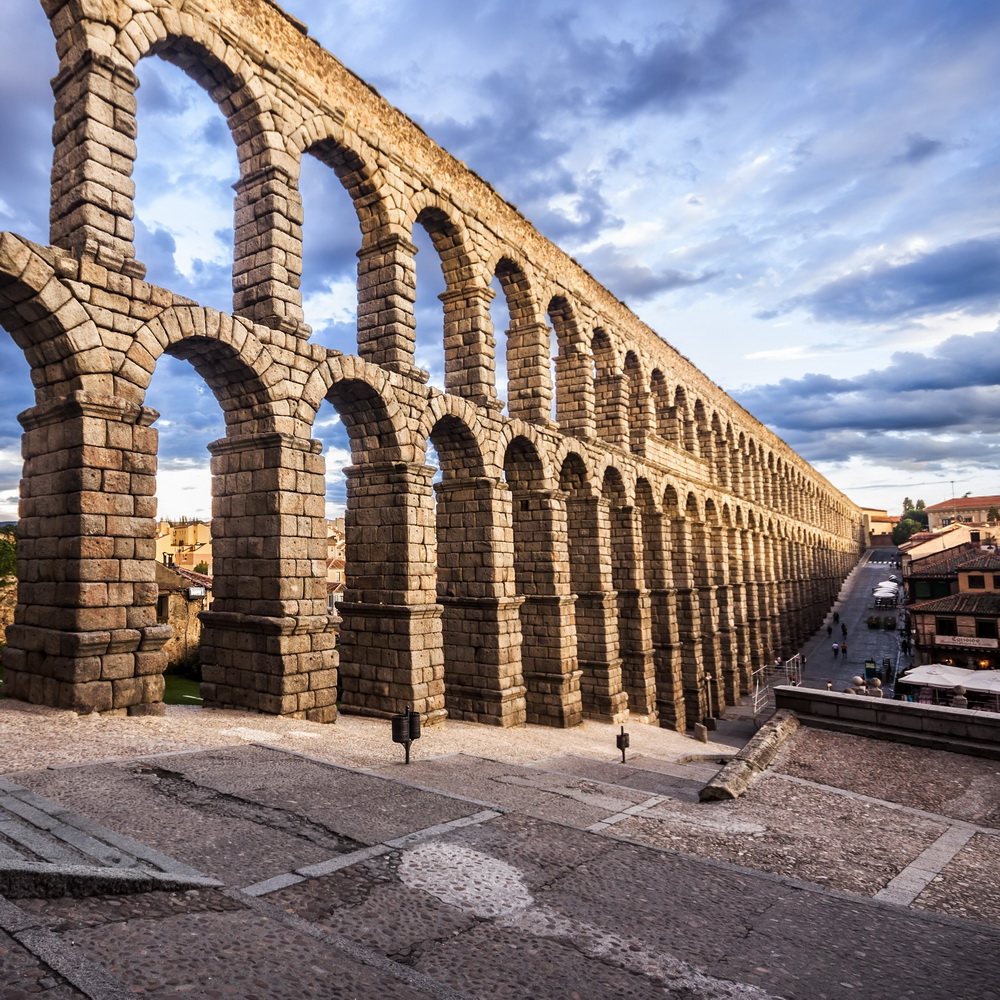 Madrid, Spain's bustling, artistic capital
Cathedrals of Burgos and León
Salamanca – oldest university city in Spain
Roman aqueduct of Segovia
Walls of Ávila
Ribera del Duero, Toro, Rioja or Rueda wines
Camino de Santiago & Via de Plata
El Bierzo and Las Médulas
Roman Mérida
Toledo 'City of the three cultures'.
Birdwatching in Monfrague Nature Park
Iberian ham – from field to plate
Inland Spain is full of Unesco World Heritage Sites, 14 in the region covered here, showing its legacy of history and culture.
When to go Madrid & Inland Spain
The vast Inland Spain region, covering Castilla y León, Extremadura, Castilla la Mancha  and Madrid, spreads out over the high plains of the 'Meseta' and is cut through and encircled by a series of mountain ranges or 'Sierras'.
In general the weather can be summed up as 'high and dry' with little rainfall and many hours of sunlight. Winters can be quite extreme, with significant snowfall in the highlands, and the height of summer might also be best avoided, unless of course you like to sizzle, but the long Spring and Autumn seasons – from March to early July and September through to late October – enjoy the perfect climate for nature lovers and culture-vultures alike.
Though there is some regional variation the main differences in local climate are dictated by the terrain, the cooler climate to be found in the mountains providing welcome respite in the summer months.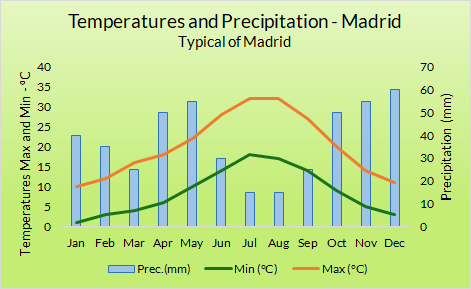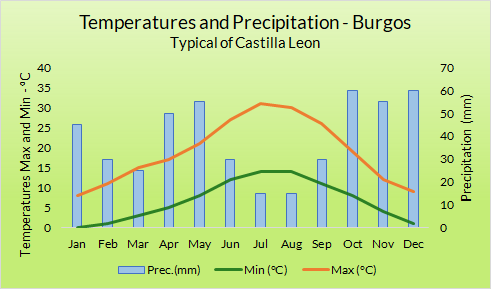 Getting to Inland Spain
With Madrid at its hub our Inland Spain touring  region is well served by air from the UK and most major international and intercontinental airports
By air
There are direct flights from the UK
To / from Madrid
Gatwick, Luton, Bristol, Liverpool & Edinburgh with Easyjet
Heathrow with Iberia / British Airways
Stansted, Manchester, Liverpool & Dublin with Ryaniar
Dublin with Aer Lingus
Other airports giving access to the region:
Bilbao from Stansted, Heathrow, Gatwick and Edinburgh
Santander from Stansted, Edinburgh and Dublin
Sevilla Edinburgh, Manchester, Birmingham, London and Bristol
*More info – check the 'Travel' tab from within any particular tour for the best options for that trip.
Getting around
A car is essential for getting around and to make the most out of the visit as many of the hotels and attractions are not easily accessed by public transport.
If travelling by air we usually include a hire car whilst those coming on the ferry will use their own vehicle. In either case we will provide full driving instructions, GPS co-ords for the accommodation and essential information on driving in Spain and Portugal as well as a touring map of the area.
Eating and drinking in Inland Spain

From honest country tavernas to highly acclaimed Michelin starred restaurants, inland Spain offers the full range of possibilities for food lovers.
Special emphasis is given to local seasonal produce and the best way to find this is going for "Menu del Día" daily menus. A "Menu de Degustación" or Gourmet menu, will allow you to taste local delicacies prepared in more elaborate dishes at a higher price.
Inland Spain is famous for its delicious meat dishes, especially lamb and suckling pig, always accompanied by fresh seasonal vegetables.
Wonderful wines
La Rioja, Rueda, Toro and Ribera del Duero are the obvious stars here but they are only the tip of the iceberg when it comes to wine.
From small to large producers, Inland Spain is the region where wine producing is outstanding for its quality. Full bodied reds are produced in El Bierzo (Leon), Toro (Valladolid) and Rioja but don't forget the Rueda whites, fruity and aromatic.
Venture into any of the multitude of wine producers of top-class wines spread around this region at knock-down prices, you'll be impressed.