Camino del Norte NC1
Bilbao to Santiago by the coastal route
Based on 14 nights self-drive independent tour in Spain
The classic Northern Spain itinerary, following close to one of the original ways of St James yet never far from the beautiful coastline with the backdrop of the Cordillera de Cantabria mountain range. From start to finish you'll find great walking, superb food and wine, great cities and lovely, well preserved towns to investigate as well as the legacy of hundreds of years of pilgrimage.
The full route takes two weeks but you can do as little, or as much, as you like.
Tour Highlights:
World class wines and gastronomy
Spain's most beautiful beaches
Breathtaking mountain scenery
The 'Way of St James', steeped in history
Magnificent cities, unspoilt villages
Ancient architecture to ultra modern Guggenheim
More about North Spain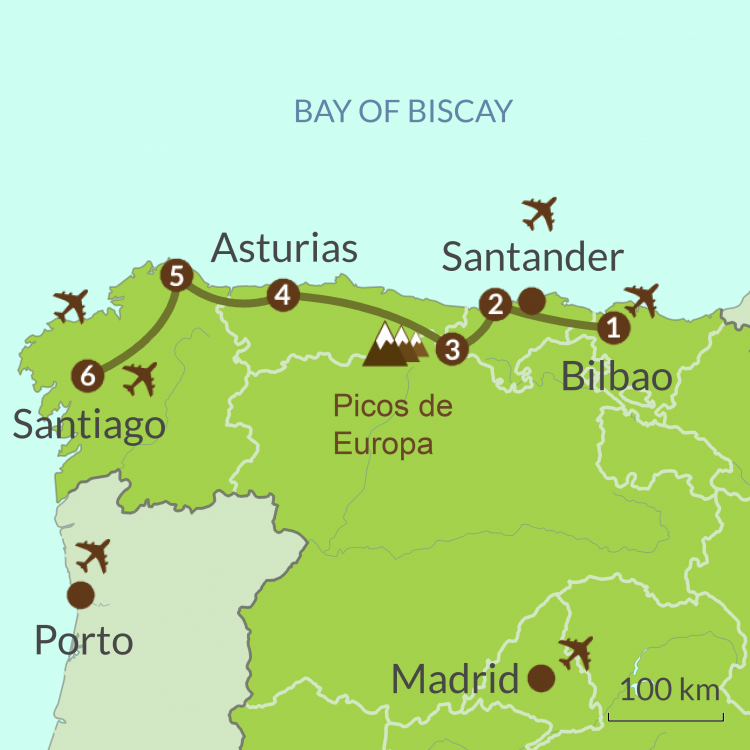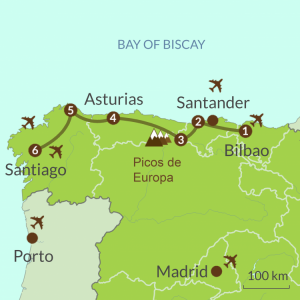 £1275 p/p
* Indicative mid-season prices for 14 nights (including car hire – flights not included). For ferry drive and single port of entry & return see NC7 Camino del Norte out-and-back.
Full details (PDF)
The itinerary includes the following:
Accommodation in our listed hotels – 2 sharing 1 std. double ensuite, B&B
Economy 4dr car hire
or ferry crossings with Brittany Ferries (car + 2 berth interior cabin)
Guide to Northern Spain
Restaurant guide covering all regions en-route
Instructions to find all accommodation
Not included:
Flights – but we are able to advise
One-way car hire charges, where applicable (see your quote email)
The following car hire extras – these can be added at pick-up point

extra driver
child seats
GPS

Garage parking where applicable (mostly city stops) – please ask us about parking charges
Getting there
A point-to-point itinerary, this route is best enjoyed flying in to the Basque Country and back from Galicia – or vice versa – the best options are:
Connections from-to:

From Stansted: Bilbao with Easyjet / Santiago with Ryanair
From Gatwick: Bilbao with Vueling-BA / Santiago with Easyjet
From Dublin: Bilbao with Aer Lingus or Santander with Ryanair, return from Vigo with Ryanair or Santiago with Aer Lingus
Ferry: if you wish to bring your own car, classic car or motorbike we can include the ferry crossings as part of the package – See our Camino del Norte – Out and back NC7 (single port of entry and return – interleaving the stages).
Getting around
For passengers travelling by air we will include a hire car as part of the package. Normally we include a 4 door economy class car but please let us know if you would like something different.
For those coming on the ferry you will use your own vehicle but in either case we will provide full instructions to arrive at each hotel, complete with GPS, as well as a map of the area.
AITO reviews
Excellent. The route was customized to our requests. We would recommend staying two nights at least in each location.
The area of Spain was beautiful and exploring the Camino route by car was fascinating.
5 stars!
Stunning scenery, lovely hotels, great information and easy driving!
We had a wonderful holiday due to your excellent organisational skills. Everything went like clockwork and the app. worked so well.
Car hire was smooth and Jose and Javi (taxi transfers) so punctual and helpful.
Loved the hotels, some more than others but all were spotlessly clean and the hosts most helpful and welcoming and we often felt that Casas clients got special treatment, upgrades.
Small hotels like these are so more personal and intimate.
Completely new part of Spain for us…. Hotels were great, scenery was amazing and food was fantastic. We had a ball.
Excellent from beginning to end!
Our first experience of Northern Spain & indeed, of a fly-drive package…. We loved every accommodation & the whole holiday was trouble-free. It really was an excellent experience. We will be returning!
We loved touring the North of Spain and thought the selection of hotels was excellent. We really enjoyed the contrast between staying in a city, small towns next to the sea and in the Picos de Europe.
The hotel selection was super again offering contrasts between modern and traditional. In all the hotels the service was excellent and all the hosts spoke very good English despite their apologies for not speaking good English.
This part of Spain is relatively quiet, most of the tourists are Spanish and the beaches are fantastic, though the water can be cold. We would definitely visit this part of Spain again.
One of my highlights was the pleasure of driving on the Spanish roads, particularly our journey from Pesaguero to Puerto de Vega via the mountain pass through Riano. During the 3 weeks we enjoyed sunshine nearly every day and ate some delicious meals and enjoyed the Fiesta of Queimada at Cervo on 18th August.
We started in Bilbao and ended in Santiago and toured along the coast and explored the Picos Europa in between. Hotels were great, scenery was amazing and food was fantastic. We had a ball.
…about Casa Cantabricas …. Everything felt personal and all the bookings and directions went smoothly. The chosen hotels and stopping points were perfect and much better than we could ever have hoped to find ourselves. Would certainly use again and would happily recommend to others.
We highly recommend this area for those wanting a slightly different holiday.
….. I have already recommended this holiday and company to others and would book another tour through them again. A really great holiday.
We had a great holiday made easy by your great organisation and brilliant choice of accommodation.
The quality of the Hotels and the service given at every one was excellent. The booking process was simple and the information provided very useful.
… from Bilbao to Santiago de Compostela. It was an interesting mix of coast, mountains and towns. The hotels we stayed in were very varied, including a medieval house, a grand villa, a monastery and an ultra-modern hotel.
Casas Cantabricas were so helpful from pre-booking to the day of arrival. They are very knowledgeable about the area and provided lots of useful information to enable us to make the most of our stay. I felt that nothing was too much trouble for them.
Just a note to thanks you for organising a great holiday! Everything worked well, and the hotels and people were lovely.
The [Vamoos] travel app is excellent so far and extremely easy to load
Thank you for putting together an excellent programme for us which we enjoyed immensely.
All of the hotels chosen were superb. We were made feel very welcome everywhere.
We would like to return again within the next 12 months.
Well done!
Casas Cantabricas arranged a stunning tour of Green Spain. They made it easy for us to get full enjoyment out of this lovely area. The tour was well paced giving us ample time to relax and enjoy the sights.
Casas Cantabricas proved to be very knowledgeable about the region visited. Their service was excellent, meeting all of our needs.
The Hotels were very good and extremely interesting, fully matching our desire for older properties full of character. We would definitely use this company again and recommend anyone to do likewise.
More about North Spain