Camino del Norte – Out and Back NC7
Santander – Santiago – Circular tour
Based on 14 nights self-drive independent tour in Spain
The classic Northern Spain itinerary adapted to combine with the ferry crossings to Bilbao and Santander. The stops are interleaved to keep driving times reasonable so you can cruise to Spain in style with your own car, motorbike or classic car – and discover north-west Spain at a leisurely pace.
This out-and-back tour is a great solution for those wishing to enter and return via the same Spanish airport, combing well for example with the routes from Manchester and Bristol to Bilbao or Dublin and Edinburgh to Santander.
The route follows close to one of the main ways of St James yet never far from the dramatic coastline and with the stunning Cordillera de Cantabria mountain range as a backdrop. From start to finish you'll find great walking, superb food and wine, great cities and lovely, well preserved towns to investigate as well as the legacy of hundreds of years of pilgrimage.
The full route takes two weeks but you can do as little, or as much, as you like.
Tour Highlights:
The 'Way of St James', steeped in history
Spain's most beautiful beaches
World class wines and gastronomy
Breathtaking mountain scenery
Magnificent cities, unspoilt villages
Ancient architecture to ultra modern Guggenheim
More about North Spain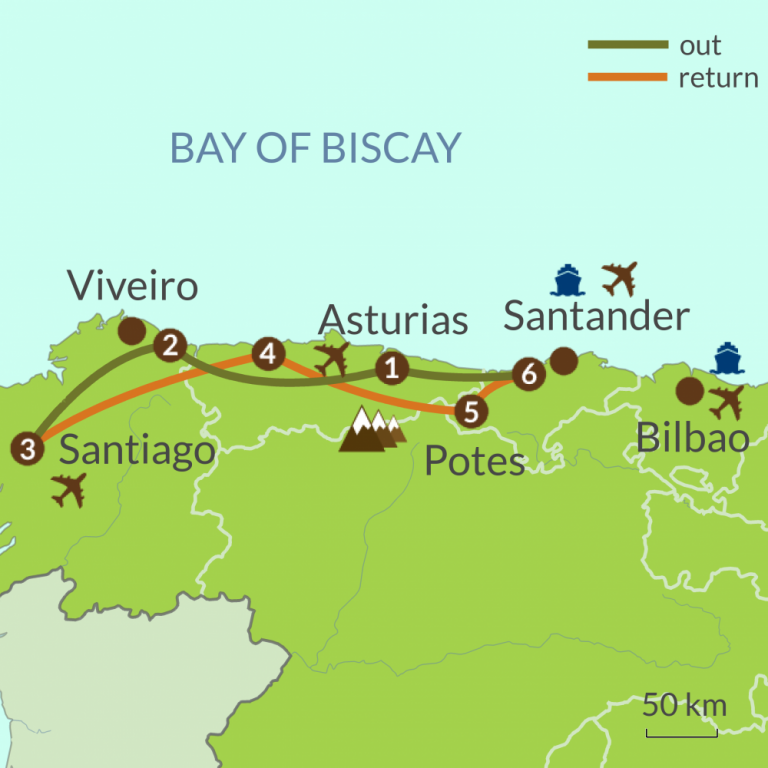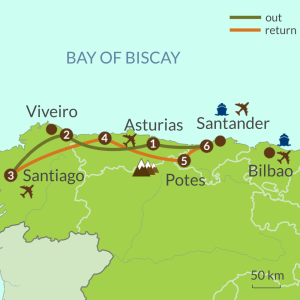 £1100 p/p
* Indicative mid-season prices (including car hire – flights not included). Ferry-drive based on 2 people from £1250p.p. for 14 nights.
Full details (PDF)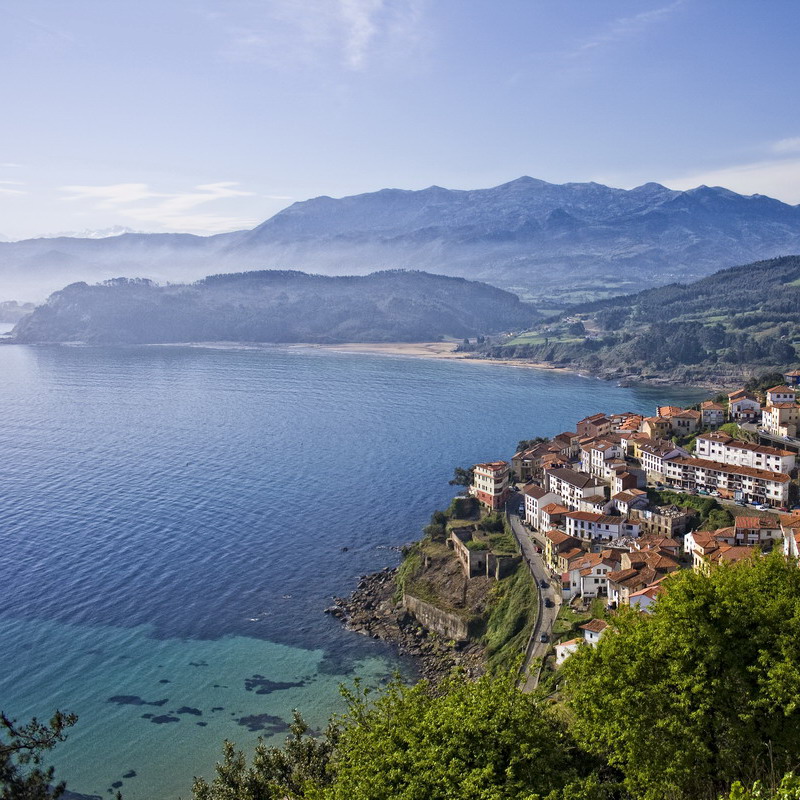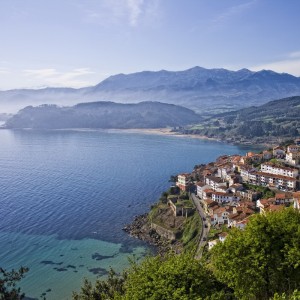 Day 1 to 3 – Asturias: Picos & Dinosaur Coast
Picos de Europa soaring directly above the coast
Mirador del Fito – the best view of the Picos & the coast
Jurassic footprints by the beaches
Canoe down the Sella or get out on a fishing boat
Oviedo's fine Pre-Romanesque architecture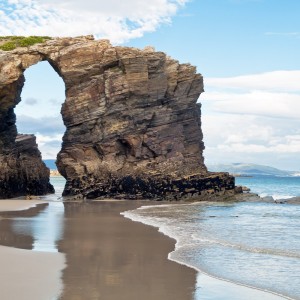 Day 4 & 5 – Costa Lucense, Galicia
Great seafood – famed throughout Spain
Playa Catedrales, one of many fantastic beaches
Unspoilt coastline with lovely fishing villages
Viveiro, lively seaside city with an atmospheric old town
Sargadelo pottery, traditional yet with a modern look.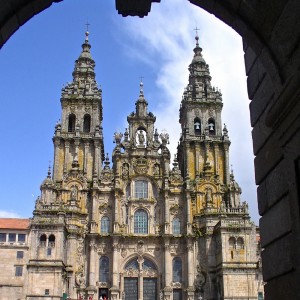 Day 6 & 7 – Santiago de Compostela, Galicia
Journey's end, for centuries Europe's most important pilgrim destination
World heritage city centred around the magnificent Cathedral, said to house the bones of St James
Guided walking tour, there's so much to discover
Lively bar scene, great tapas and young Ribeiro wine, or if you prefer, a drop of Albariño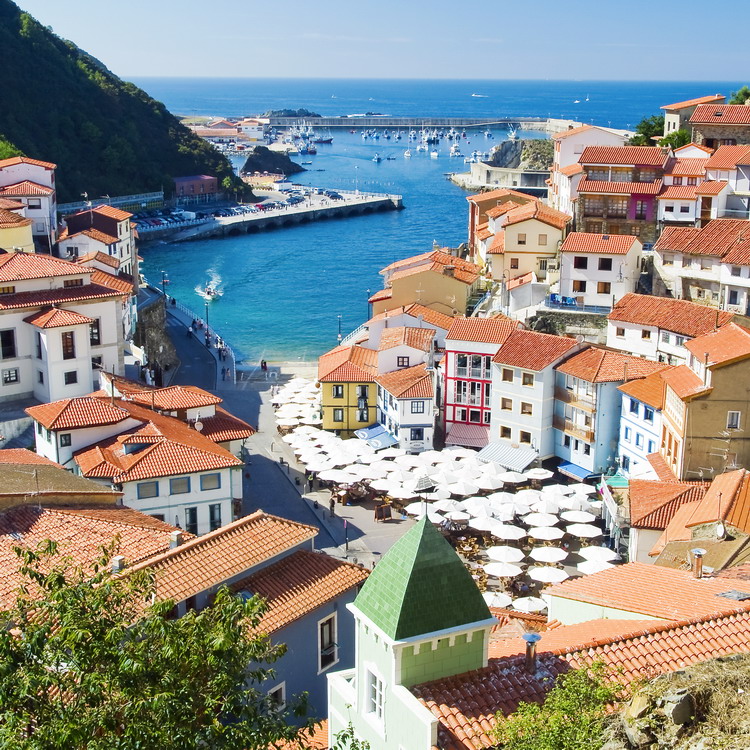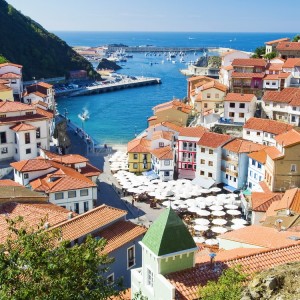 Day 8 & 9 – Western Asturias
Pretty fishing villages such as Cudillero & Luarca
Beautiful beaches & dramatic cliff-top coastal walks
Dinosaur coast & Jurassic museum
Oviedo, historic Asturian capital & Gijon by the sea
National Park of Somiedo – maybe you'll see bears!
Visit a traditional Asturian cider house (sidrería)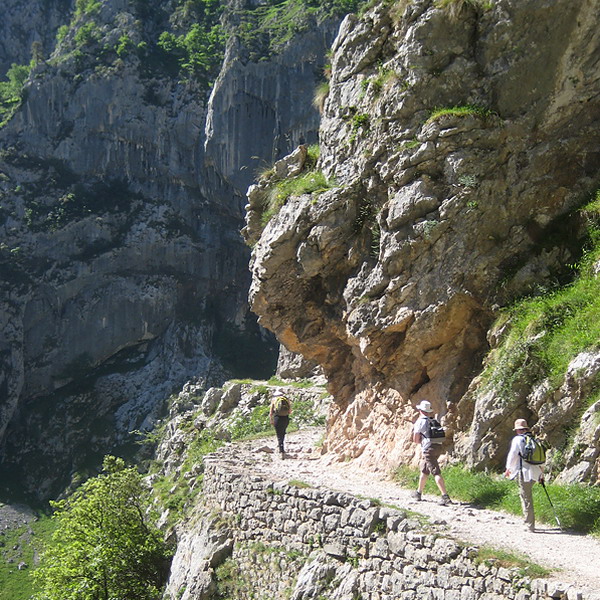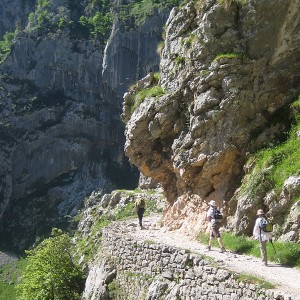 Day 10 & 11 – Picos de Europa
Breathtaking mountain scenery, walks & activities for all
Wildlife, butterflies to birds of prey, bears too!
Make a pilgrimage to Santo Toribio
Cable car at Fuente De whisks you up to 1800m
Potes, Cangas and Arriondas, historic yet full of life
Local mountain gastronomy, cider & Orujo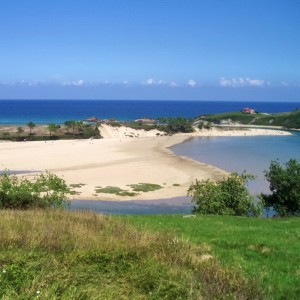 Day 12 to 14 – Western Cantabria
Historic seaside towns of San Vicente, Comillas or Santillana del Mar
Sandy beaches and craggy protected coves
Carmona, Barcena Mayor in the beautiful valleys
Prehistoric cave paintings at Altamira and many more
Wonderful walks along the coast or in the rolling hills
The itinerary includes the following:
Accommodation in our listed hotels – 2 sharing 1 std. double ensuite, B&B
Economy 4dr car hire
or ferry crossings with Brittany Ferries (car + 2 berth interior cabin)
Guide book to Northern Spain
Restaurant guide covering regions en-route
Instructions to find all accommodation & regional road map
Not included:
Flights – but we are able to advise
One-way car hire charges, where applicable (see your quote email)
The following car hire extras – these can be added at pick-up point

extra driver
child seats
GPS

Garage parking where applicable (mostly city stops) – please ask us about parking charges
Getting there
An out-and-back itinerary, this route is best enjoyed either from the Basque Country (Bilbao) or Galicia (Santiago – A Coruña). The best options are:
Flight connections from-to:

Stansted: Bilbao with Easyjet / Santander, Santiago and Vigo with Ryanair
Heathrow: A Coruña with BA
Gatwick: Bilbao with BA / Asturias with Vueling / Santiago with Easyjet
Manchester: Bilbao with Easyjet
Edinburgh: Santander with Ryanair / Bilbao with Easyjet
Dublin: Santander or Vigo with Ryanair / Santiago or Bilbao with Aer Lingus
Bristol: Bilbao with Easyjet
Ferry: if you wish to bring your own car, classic car or motorbike we can include the ferry crossings as part of the package
Or, make the same itinerary fly-drive point-to-point – please

click here

 for more details
Getting around
For those coming on the ferry you will use your own vehicle but in either case we will provide full instructions to arrive at each hotel, complete with GPS, as well as a map of the area. Please consult about parking at hotels if travelling with a classic car, motorbike or other 'special' vehicle.
For passengers travelling by air we will include a hire car as part of the package. Normally we include a 4 door economy class car but please let us know if you would like something different.
AITO reviews
The tour was well planned. All the places that we visited were delightful. The preparatory information was accurate & well presented All of the 6 hotels were very comfortable & 2 were outstanding. They were all excellent value for money.
Excellent customer service. Easy to contact & talk to
Would definitely recommend & buy from them again.
Excellent. The holiday was wonderful - full of variety, beautiful scenery and unique hotels.
Super holiday - Trip was as promised - everything was well organised and the team were helpful over the phone and via email in accommodating all our requests.
Client 2019
We had a fabulous time, and loved the area we travelled around.
Very efficient, information was very clear and we loved the tips about where to stop off etc. Directions were excellent and the guide book was our bible for the duration.
Client 2019
5 stars!
Provided a good package and off the beaten track hotels.
Client 2019
Fantastic driving experience in the most beautiful part of Spain
Seven stops in beautiful small family run hotels in various lovely towns and fishing villages in northern Spain. The scenary and varied terrain were a joy to behold, the friendly people and gorgeous food were second to none. Casas Cantabricas got this holiday spot on. Wonderful!
client 2019
First time we used Casas Cantabricas and it won't be the last, superb advice and the best orgained holiday I've ever had, the Vamoos holiday app., is amazing-well done!
Client 2019
3 week tour in Cantabria, Asturia and Galicia, interesting, different, wonderful scenery, great food, superb accommodation
client 2018
This was a completely new part of Spain for us which we have wanted to explore for a while and it did not disappoint.
-client 2018
The hotels were great, scenery was stunning and the food was fantastic. We had an amazing time.
-client 2018
Made to measure!
Excellent accommodation and itinerary, very clear information prior to booking and to guide us on our journeys.
-client 2018
Real attention to detail for all aspects of the trip.
-client 2018
The hotels and holiday information were excellent and we enjoyed all the places we visited.
-client 2018
Casas Cantabricas was very helpful on the phone in booking the tour …. Well planned and well organised!
-client 2018
We saw fabulous beaches and coves, mountains and forests and managed to fit in some cathedrals and museums along the way. New to holidaying in Spain we put ourselves in the hands of the excellent people at Casas Cantabricas who worked out an itinerary which suited our needs.
-client 2017
Fuente De Clouds stage
Casas Cantabricas and their information, especially on their app made the whole experience so simple and gave us so many ideas of places to go and things to do along each leg of the journey. My Spanish was not always up to the occasion but it provides a Winter project ready for next year's Spanish road trip – with Casas Cantabricas.
-client 2017
We thoroughly enjoyed the beauty and variety found in this region of Spain. Staying in a range of small independent hotels – all of which were special in their own way – we received a very warm welcome and excellent service at each of them.
Our holiday exceeded our expectations – Casas Cantabricas did a good job.
-client 2017
Northern Spain has lovely sandy beaches with a splendid mountainous backdrop. The roads are quiet and in better shape than our own UK roads and driving is stress free.
-client 2017
More about North Spain