Topped-and-tailed by a relaxing cruise the ferry-drive tour is the perfect antidote for airline-weary travellers. And northern Spain provides an exciting alternative to France for those who would rather not fly.
Ferry direct to Northern Spain for surfy beaches, world-class gastronomy and lofty mountains. Here you'll find an extraordinarily rich historic heritage, architecture, both modern and ancient  – and plenty more. There are sleepy fishing villages and vibrant cities yet the region is still predominantly rural and quite unspoilt.
Roads are remarkably good, driving conditions civilised and you'll find no end of good things, from wines of Rioja and Ribera del Duero to fine Spanish ham, at wonderful prices to bring home with you.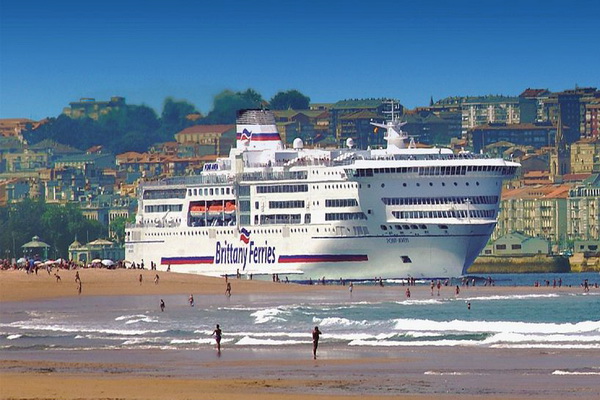 Nine ferry crossings a week.
Brittany Ferries now offer seven crossings a week from the UK and two crossings a week from Ireland to northern Spain. Ferries depart from Portsmouth and Plymouth in the UK and Cork in Ireland, and enter Spain via Bilbao or Santander. The Spanish ports are just an hour apart meaning that they can be easily combined to fit your holiday plans.
Bring your own car and cruise down to Spain in style – and stock up with delicious goodies for the return trip!
We've designed several circular tours to combine with the ferry routes, staying in delightful small hotels and travelling at your own pace. If you don't see what you're looking for here do please give us a call and we'll happily put together a bespoke itinerary for you.
Choose from our northern Spain ferry tours
Ferry tour northern Spain
Let our experts help you plan your trip – we'll adapt the route to fit with ferry crossings which suit you, and take into account any driving or parking concerns you may have. We can advise on circular rides, road conditions, the best time to come and driving regulations in Spain and Portugal..
Brittany Ferries services arrive in the Spanish ports of Santander and Bilbao. Our recommended routes head from there into Cantabria, Asturias, Galicia and the Picos de Europa in the Spanish northern region, south into Castilla y León and La Rioja and further afield into Portugal. Please call to ask about options.
If you have particular requirements please do let us know. For example we can advise on classic car touring and motorcycle touring in Spain  – if you have a small group please give us a call – we'd love to hear from you!