Camino del Norte – Out and Back NC7
Santander – Santiago – Circular tour
Based on 14 nights self-drive independent tour in Spain
The classic Northern Spain itinerary adapted to combine with the ferry crossings to Bilbao and Santander. The stops are interleaved to keep driving times reasonable so you can cruise to Spain in style with your own car, motorbike or classic car – and discover north-west Spain at a leisurely pace.
This out-and-back tour is a great solution for those wishing to enter and return via the same Spanish airport, combing well for example with the routes from Manchester and Bristol to Bilbao or Dublin and Edinburgh to Santander.
The route follows close to one of the main ways of St James yet never far from the dramatic coastline and with the stunning Cordillera de Cantabria mountain range as a backdrop. From start to finish you'll find great walking, superb food and wine, great cities and lovely, well preserved towns to investigate as well as the legacy of hundreds of years of pilgrimage.
The full route takes two weeks but you can do as little, or as much, as you like.
Tour Highlights:
The 'Way of St James', steeped in history
Spain's most beautiful beaches
World class wines and gastronomy
Breathtaking mountain scenery
Magnificent cities, unspoilt villages
Ancient architecture to ultra modern Guggenheim
More about North Spain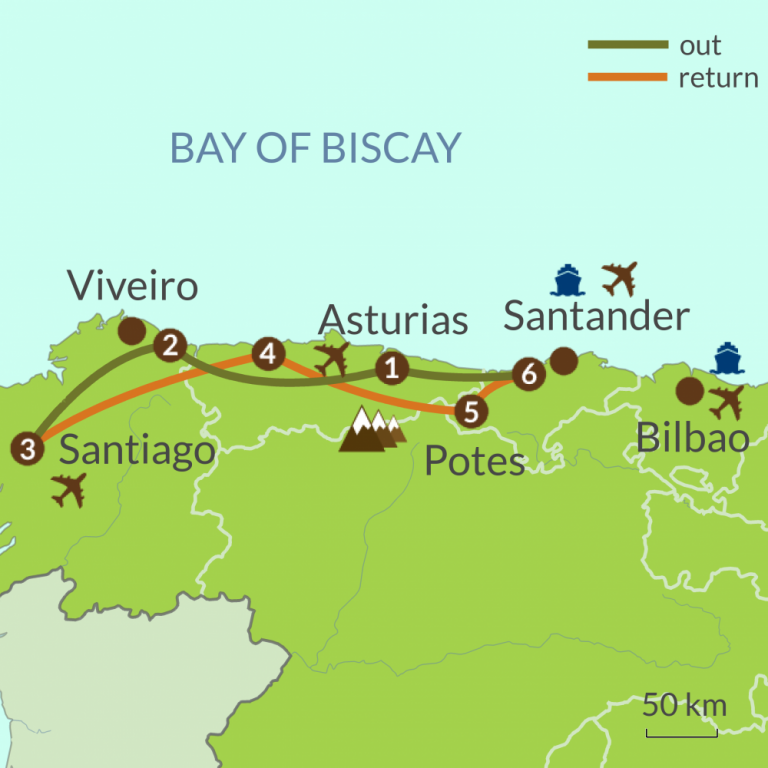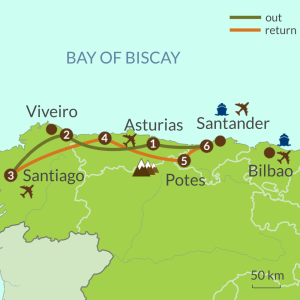 £1275 p/p
* Indicative mid-season prices (including car hire – flights not included). Ferry-drive based on 2 people from £1425p.p. for 14 nights.