30 years local expertise – over 200 hand-picked hotels
Your personal roadbook, guidebook, document safe, GPS mapper and weather service
Find out more about our fascinating touring regions in Spain & Portugal
Frequently asked questions about self-drive Spanish & Portuguese touring holidays:
Can the itineraries be adapted to suit my wishes?
Certainly!
The routes featured on the Caminos website are examples intended to inspire and give you an idea of what we offer. We can adapt the dates, duration and the route itself to suit your needs – for more about bespoke touring vacations and customization please click here.
We have a network of over 200 selected hotels throughout the lesser travelled areas of Spain and Portugal and can put together most itineraries based on those. Should you wish to include a particular hotel in any given location we will be happy to arrange that for you though in general we prefer to work with the hotels we know and trust.
As the tours are independent and self-guided you can start and finish whenever suits you best!
Please don't hesitate to call us with your personal requirements – we find a good chat is often the best way to match your criteria with all the various options available!
What's included?
Bed & breakfast accommodation in small independent hotels

An evening meal is also included on arrival at some hotels – see the 'Full Details' on the tour page or ask for a personalised quote

Ferry travel or car hire (we don't do flights but can advise)
Your own personal Vamoos travel app & e-document manager
Our own regional holiday guide for each area
Regional guidebook & roadmap
Detailed point-to-point directions with insider en-route tips
Helpline support whilst on holiday
What's not included?
Flights – we don't offer flights but are very happy to advise. In each tour page you'll find travel advice or please call to discuss your particular needs.
Lunch & evening meals – generally we prefer to leave you with more flexibility. Where the hotel has a restaurant they will always give you the option and where not there are always options nearby
Car hire extras – One-way charges (where applicable), extra drivers, child seats, GPS and Toll devices (only applicable to Portugal)
Insurance – we no longer offer travel insurance
Tour guides – our tours are independent but we try to make sure you have all the information you need – at your fingertips –  to ensure that you get the most out of the holiday.
Parking is not included as it often cannot be pre-booked. Rates range from €10-€20 daily. Note this is mainly an issue in city hotels.
What do your holidays cost?
Our holidays usually cost between £80 and £130 per person per night, based on two sharing, the final cost of your bespoke package depending on many factors including the time of travel & grade of accommodation chosen.
Our experts will work with you to optimise the itinerary and we will provide a personalised quotation for your holiday. There are several factors which influence the final price of your tailor-made tour:
Season – the prices shown on our web are mid-season, not the lowest possible price for the tour. In high season you'll pay a little more, in the winter you might get a bargain!
Special events and local holidays can also significantly affect the final price. Our experts will work with you to get the best value possible.
Accommodation – our standard packages generally include standard rooms in hand-picked, mid-to-high range accommodation. In many cases we can also offer upgrades to superior rooms or more luxurious hotels – please enquire!
Transport – we generally include a 4-door economy-class or a standard, large cabin on the ferry. In both cases more economic options are available as well as upgrades.
In our experience a rental car is more trouble than it's worth while in a city. So with your best interests in mind, where appropriate, at the start or finish of a tour, we've already factored that out. Of course we're happy to accommodate your requirements whatever they are.
Duration – we'll happily tailor the tour to the time & budget you have available  – you're in the driving seat!
What type of hotels will we stay in?
Generally we work with small, independent hotels and guest houses where the owner is in charge though we're happy to include a Parador or larger hotel in certain locations if that's your preference.
Most of our selected establishments have between 10 and 25 rooms (though this may vary a little, especially in city locations)
Our hotels and guest houses are highly individual and, we hope you'll agree, charming. All are inspected by our local expert team and selected for their location, style and customer care.
All of our establishments offer breakfast. For other meals they either have their own restaurant or options within easy walking distance.
All rooms are ensuite.
All hotels have Wi-Fi at least in the common areas.
Air-conditioning whilst not common in the northern hotels (which are generally old buildings with thick stone walls) is usually offered in those further south – please check individual hotels or ask if this is important to you.
Parking varies from hotel to hotel but you can always leave bags at the reception and most have secure parking at the hotel itself or nearby.
For a little more detail on the hotels click on the 'Full Details' button on any particular tour and you'll see an example of hotels in that particular itinerary which you can review in detail. Or for an overview see Our Hotels
What info will I get?
Our routes are independent but we try to give you all the info you need to get the most out of the experience:
Your own personal travel app & e-document manager (see separate section)
Detailed instructions to find each hotel
Point to point directions with tips for stops along the way
Guidebook covering the region(s) in question
Regional touring map
Our North Spain Holiday Guide application for mobile devices (northern provinces only)
What about the environmental impact of my trip?
We recognise that there is a significant carbon footprint associated with travel, most notably emissions from air travel and, to a lesser extent, from ferry crossings and driving whilst on holiday and we have decided to take the responsibility of offsetting that impact through projects that truly help combat climate change.
We calculate the impact of your trip and buy offsets to cover it, so you can rest assured that your holiday is Carbon neutral.
Please click here for more information.
What exactly is my 'Personal Travel App'
As part of your package you will receive a personal travel app and e-document manager. This is an application for mobile devices (iOS and Android supported) which gives you all your essential information, at your fingertips and in a paperless format: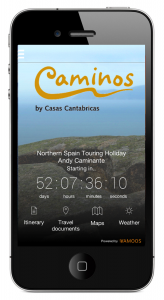 In this app you will find
your itinerary
your ferry voucher / car-hire voucher as applicable (this should be carried in paper form also)
point to point directions
regional guides to the areas you will be visiting
a general food and vocab guide
a map with each hotel geo located
directions to find each hotel (embedded within the map)
local weather forecast
What's the weather like?
This depends on exactly where you will be visiting. See our regional information pages for advice on when to go – here's a brief summary:
Spanish North west coast
The Cordillera Cantabrica mountain range which sits along the northern coast has a pronounced effect on the local climate. On the north side of the mountains there's a North Atlantic maritime climate which means the weather is generally mild. There's more rain than in the rest of Spain but the temperatures are generally more pleasant, reaching maximums in the high 20's – low 30's centigrade in the summer months.
Atlantic facing coast 
The west-facing coast of Galicia enjoys a benign micro-climate evidenced by the abundance of vineyards. Temperatures here are higher than in the north coast of Spain though without reaching the sizzling heat of the Med.
Picos de Europa
The Cantabrian side of the Picos around Potes enjoys a benign micro-climate with considerably less rainfall than the coast (the flora here is technically Mediterranean) whilst the Asturian side is similar to the north coast.
Castilla y León & La Rioja
Spain's interior – the 'Meseta' – consists of high, arid plains ringed by very high mountain ranges. The plains get very hot and dusty in the summer, sometimes exceeding 40ºC and very cold in the winter. This is somewhat mitigated in certain areas such as La Rioja and the Sierra de Francia by the lie of the land and local effects. The best time to visit is spring, early summer or autumn.
Pyrenees
The sunny Spanish side of the mountains generally enjoys a benign climate. Drier than the north-west coast with a longer summer without reaching the extreme heat of the Med. The complicating factor is the altitude, the high mountains giving rise to local weather effects which must be given due respect (temperatures can drop quite suddenly or winds pick up).
Andalucia and Extremadura
Generally the hottest part of mainland Spain, temperatures are cooler though in the Sierras and, in certain areas such as Cadiz, there are cooling sea breezes. Best visited outside of the main summer months and ideal for those seeking a bit of sun in the autumn and winter.
North and Central Portugal
Technically a mix of Atlantic and Mediterranean climate the result is a pleasant mid-point between the two with average summer temperatures around 30ºC near the coast. The mountainous landscape affects the inland climate significantly with cooler temperatures the higher you go and even snow in the highlands of the Serra de Estrela in the winter months. On the other hand the deep valleys can tend to trap heat, leading to especially high day-time temperatures in the Alto Douro in the summer.
Who are Casas Cantabricas?
In a nutshell we're a small, independent UK registered tour operator with over 30 years' experience in off-the-beaten-track Sapin and Portugal.
Find out about the real experts of Casas Cantábricas.
We've tried to answer some of the most common questions about our Spanish and Portuguese touring holidays but should you have any other doubts or queries please don't hesitate to call us – we'd love to hear from you!
More info about the regions where we tour…
North Spain
Discover a different side of Spain in the verdant, mountainous, gastronomic north-west
Pyrenees
The sunny side of the Pyrenees – endless adventures await in breathtaking scenery
Inland Spain
Arty Madrid & the monumental heritage cities and wild  landscapes of inland Spain
Cross Border
Discover two wonderful countries in one trip  in the Spanish-Portuguese borderlands