Asturias to Andalucia – the Roman Way
Based on 14 nights self-drive independent tour in Spain
Following the ancient, Via de Plata, trading route – literally the 'Silver Path' – this epic journey crosses Spain from north to south. Few tours offer such extreme contrasts, from the lush green valleys of Asturias to the arid plains and high sierras of Castilla-León and Extremadura, finally reaching the orange groves of Andalucia; from the bedrock of Christian Spain to the heart of the one-time sultanate, here you truly get a sense of Spain's rich and turbulent history…
The full route takes two weeks but you can do as little, or as much, as you like
Tour Highlights:
Picos de Europa & the dramatic north coast
León & Astorga – crossroads with the Camino de Santiago
Salamanca – monumental university city
Dehesa landscapes – Jamón Iberico
Historic Caceres, Trujillo, Guadalupe
Sevilla – full of Andalucian 'alegría'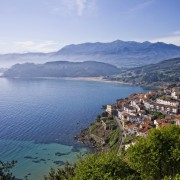 Day 1 to 3 – Asturias: Picos & Dinosaur Coast
Picos de Europa soaring directly from the coast
Cider country – the Spanish Cornwall?
Beautiful beaches with fossil dino-footprints
Canoe down the Sella or get out on a fishing boat
Oviedo's fine Pre-Romanesque architecture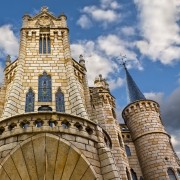 Day 4 & 5 – León & Astorga
Leon's cathedral & lively old town
Maragato culture in Astorga
Lunar landscape of Las Medulas
Great wines from Toro, El Bierzo & Rueda
Gaudi's fairytale palace in Astorga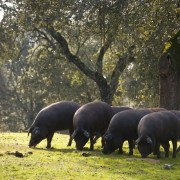 Day 6 & 7 – Salamanca

Monumental Salamanca – a World Heritage Site
Spain's oldest university – Europe's fourth
Savour the delicious Gijuelo cured ham
Casa de las Conchas – Dali's inspiration?
Stroll on the Roman bridge or in the lovely gardens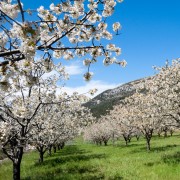 Day 8 & 9 – Hervás
Explore the high Sierras of Gredos and Salamanca
Lose yourself in the Jewish Quarter of Hervás
Valle del Jerte cherry trees by the million – a real treat in Spring!
Visit Candelario & Béjar – two true beauties
Plasencia – key staging point on the Via de Plata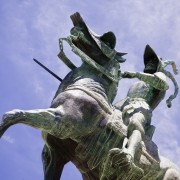 Day 10 & 11 – Trujillo
 Monfrague National Park – a lesser known gem

Historic Cáceres & Trujillo with its imposing castle

Take a pilgrimage to Guadalupe
2nd century Roman bridge at Alcántara
Excellent local cheese and game dishes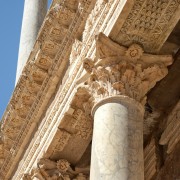 Day 12 – Llerena
Mérida, some of Spain's finest Roman ruins
Paintings of Zurbarán and much more in Zafra la Bella
Jerez de Los Caballeros – town of  the Conquistadores
.Discover the "dehesa" grazing for the Iberian pigs
Sample the local jamón at Monesterio – simply the best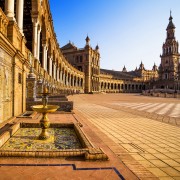 Day 13 & 14 – Sevilla
Gateway to the New World & all its riches
3 World Heritage Sites in the Old Town!
Magnificent Cathedral & Archive of the Indies
Moorish Alcázar Palace & Giralda Tower
Thriving Flamenco culture in Triana
The itinerary includes the following:
Accommodation in our listed hotels – 2 sharing 1 std. double ensuite, B&B
Economy 4dr car hire
Guide book to Spain
Restaurant guide covering regions en-route
Instructions to find all accommodation & regional road map
Not included:
Flights – but we are able to advise
One-way car hire charges, where applicable (see your quote email)
The following car hire extras – these can be added at pick-up point

extra driver
child seats
GPS

Garage parking where applicable (mostly city stops) – please ask us about parking charges
Getting there
A point-to-point itinerary, this route is best enjoyed flying in to the north and back from the south of Spain – or vice versa – the best options are:
Northern Connections:
From Stansted: Easyjet to Asturias or Ryanair to Santander
From Gatwick: to Asturias with Vueling (Iberia)
From Heathrow: to Asturias with BA
From Edinburgh or Dublin: Ryanair to Santander
Southern connections:
From Sevilla: Ryanair to Stansted, Glasgow or Dublin
From Jerez: Ryanair to Stansted
From Malaga: Easyjet to Stansted, Glasgow, Manchester, Luton + others, Ryanair to Edinburgh, Liverpool, Leeds, Manchester + others
NB: Flights are not included
If these flights don't suit the route can be adapted to suit many different options including, for example, starting or finishing in Madrid. Please contact us for advice.
Getting around
For passengers travelling by air we will include a hire car as part of the package. Normally we include a 4 door economy class car but please let us know if you would like something different.
For those coming on the ferry you will use your own vehicle but in either case we will provide full instructions to arrive at each hotel, complete with GPS, as well as a map of the area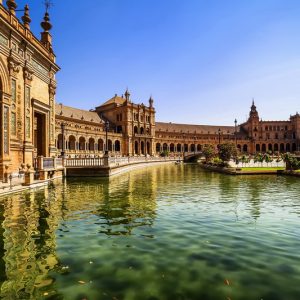 We enjoyed a 10 night tour taking in Salamanca, Seville, Grenada etc covering nearly 2000 miles.
Everything went fantastically and the itinery proved spot on for us as first time visitors and the hotels were all well located and each a little bit special. Added bonus includes advice on each area, hotel upgrades etc. and we had a super holiday.
-client 2017
We enjoyed the different experiences and learnt a great deal about that part of Spain.
– client 2017
Just to say a big thank you we had a brilliant holiday
– client 2016
Absolutely fantastic holiday in Spain couldn't have gone better.
– client 2016