Discover Galicia NC5
Galicia – a circular tour of the Celtic Province
Based on 10 nights self-drive independent tour in Spain
In the far north west corner of Spain, for centuries journey's-end for pilgrims travelling from all over Europe and long considered the end of the earth, the Celtic land of Galicia has much to offer today's visitor. Apart from this rich heritage there are miles of beautiful coastline and an interior with many little known wonders in a province larger than Wales. For the foodies there's plenty to relish with Spain's best seafood and some fantastic white wines as well as good meat and garden produce.
Tour Highlights:
Rugged ocean coastline. Lush green hills
World famous seafood & Albariño wine
Celtic roots visible throughout
Finisterre – the Romans' worlds-end
Ribera Sacra – the sacred river
Santiago – journey's end
More about North Spain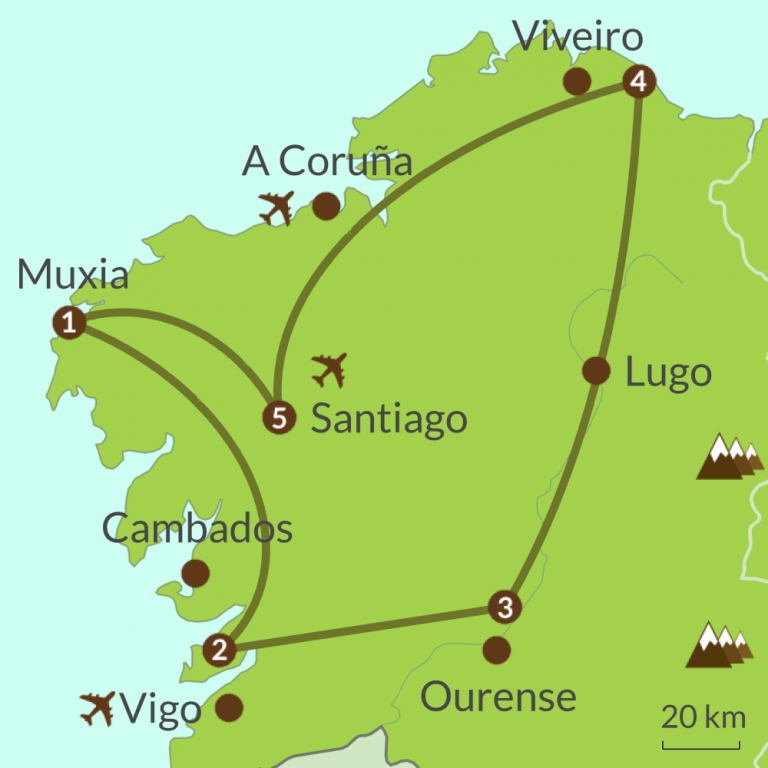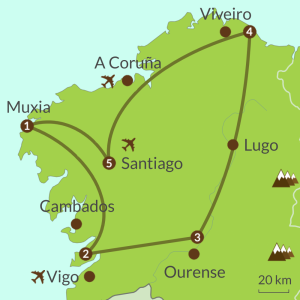 £1000 p/p
* Indicative mid-season price for 10 nights (including car hire – flights not included). Ferry-drive option (modified itinerary) from £1150 p.p.
Full details (PDF)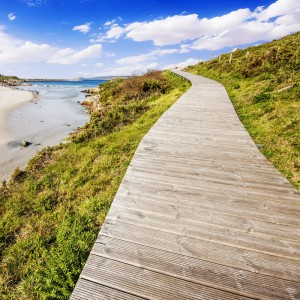 Day 1 & 2 – Rias Altas y Costa de la Muerte
Prettiest, most unspoilt beaches in Spain
Finisterre, literally the 'World's End'
La Coruña with its working Roman lighthouse
Traditional life in the fishing villages
White sands and rock pools of Carnota bay – an old favourite!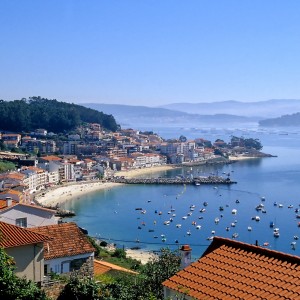 Days 3 & 4 – Rias Bajas
Feast on delicious shellfish, locally farmed
Take a trip to the idylic islands of Cies & Ons
Lively Vigo, Europe's largest fishing port
Cambados, at the heart of the Albariño wine region
Get active! Watersports for all in the Rias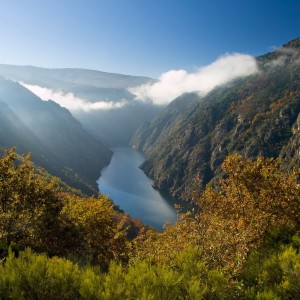 Day 5 & 6 – Ribera Sacra
Catamaran trip down the magnificent Rio Sil
Ribero wines from the vertiginous banks of the Sil
Historic Monforte, Ribadavia & local monasteries
Octopus in Ourense, best in Spain, maybe the world!
Los Ancares Nature Park, immense native woodlands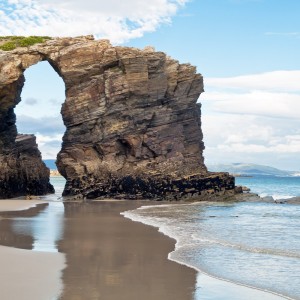 Day 7 & 8 – Costa Lucense
Playa de los Catedrales – among the world's most famous
Lively Viveiro with its active fishing port and beaches
Sargadelo pottery, traditional yet surprisingly modern!
A wealth of unspoilt fishing villages to dip into
Pop across to Asturias, just a short drive to the border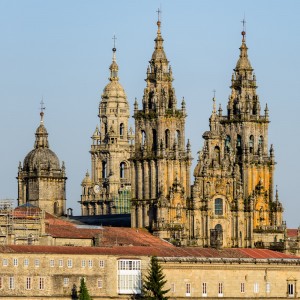 Day 9 & 10 – Santiago de Compostela
One of Europe's most important pilgrim destinations
Take a walking tour around this World Heritage City
Visit the Cathedral said to house the bones of St James
Always lively with a strong tradition of street music
Multitude of bars and restaurants, a last chance to retry all the Gallego treats!
The itinerary includes the following:
Accommodation in our listed hotels – 2 sharing 1 std. double ensuite, B&B
Economy 4dr car hire
Guide book to Northern Spain
Personal Travel App including highlights, weather forecast and restaurant suggestions for all areas en-route
Instructions to find all accommodation
Not included:
Flights – but we are able to advise
One-way car hire charges, where applicable (see your quote email)
The following car hire extras – these can be added at pick-up point

extra driver
child seats
GPS

Garage parking where applicable (mostly city stops) – please ask us about parking charges
Getting there
A round tour this route is best enjoyed flying by flying direct to Galicia. The best options are:
Connections from-to:
Stansted: Santiago or Vigo with Ryanair
Heathrow: La Coruña with Vueling
Gatwick: Santiago with Easyjet
Dublin: Vigo with Ryanair or Santiago with Aer Lingus
Getting around
For passengers travelling by air we will include a hire car as part of the package. Normally we include a 4 door economy class car but please let us know if you would like something different.
AITO reviews
Brilliant Service - The hotels were all great
Everything was well organised and explained well. The hotels that we stayed were all excellent. Will be happy to use this company again
5 stars!
Great choice of accommodation that sitied the flydrive. The fact that there was a good to excellent range of english speakers at each location was highly useful. We liked the fact that in most of the locations we could walk to a resteraunt. The change to dropping the hire car off at the airport proir to the last stop in Santiago di Compostela is very sensible. The taxi service from and to the airport was excellent. We will definitely return to Galicia.
We experienced the real essence of a beautiful underestimated part of Spain through the friendliness and insights of the property owners. We are quite jaded travellers – both of us working in the hospitality and travel industry- but this holiday way surpassed our expectations.
-client 2018
"secret" Galicia
Casas Cantabricas booked us a road tour of Galicia with simply stunning small boutique hotels and guest houses – each one unique and each one faultless. We would never have found these gems ourselves.
-client 2018
Northern Spain you stole our hearts and hope to see you soon x
-client 2018
The accommodation was outstanding with plenty time to drive between places and soak up the scenery. In most instances we avoided the motorways and took the slow roads stopping off at the suggested sights. The beaches in Galicia are just amazing, sometimes we have them all to ourselves.
-client 2018
We had a fabulous time discovering the lovely towns and food of Galicia. The weather was just right … and the small hotels were lovely, welcoming and helpful with suggestions of what to do and bookings for outings.
-client 2017
Hotels were comfortable, staff friendy and helpful, food wonderful and very good value and the local wine a discovery…We visited many of the local towns and villages and thoroughly enjoyed the local culture and history. A wonderful area unspoilt so far by too much tourism.
-client 2017
Will come back to spend more time in Galicia
- client 2017
We enjoyed the lovely scenery, hotels and good food.
– client 2016
More about North Spain