Independent self-guided tours for the discerning traveller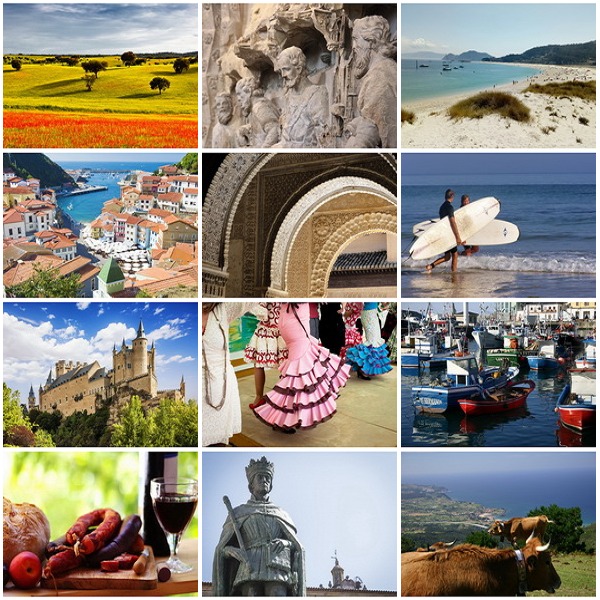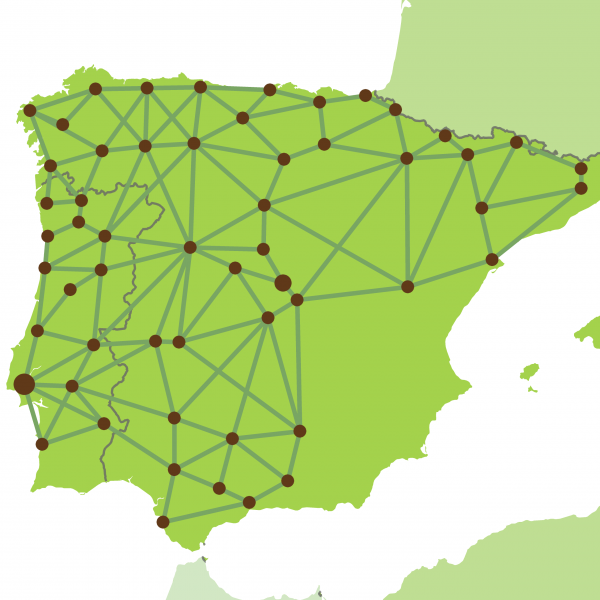 The perfect tailor-made itinerary in Spain and Portugal!
Casas Cantabricas are no longer offering villa holidays in Northern Spain as we've decided to concentrate our efforts and resources on our Caminos program of touring holidays based on small, charming hotels throughout Spain and Portugal. 
With over 30 years' experience or team of experts, resident in the region, will help put together a personalised itinerary to fulfil your every wish.
Travel independently yet informed and assisted avoiding the pitfalls of an organized bus trip yet at the same time getting the very most out of your visit to Spain and Portugal.
If you're interested please send us your wish list and we'll do the rest or give us a call and we'll happily talk you through the options and answer any queries you may have.

Hand-picked hotels
To construct our tours we choose from over 200 delightful, hand-picked hotels spread throughout the more interesting regions of Spain and Portugal – a rich palette of options allowing us to personalise your tour to suit whatever style and pace suits you best.
Usually we like to work with our own hotels which we know first hand and trust but if you have a specific hotel or destination which you'd like to build into your tour we'll always do our best to oblige.
Our 'standard' tours
To provide inspiration we have put together a collection of standard tours, which showcase  the possibilities on offer and some combinations which we think work well, but we're more than happy to adapt and combine those itineraries – or to start from scratch to ensure that you get the tour of your dreams!

Our own expert knowledge of the hotels, and their owners, form the bedrock of our touring programme.
Generally we work closely with small, independent hotels and guest houses, each with its own individual character though, should you prefer, we can also offer Paradors and Palaces and there are nearly always upgrade options for superior rooms and suites.
All of our owners speak English and wherever you tour in Spain & Portugal you'll be assured personal service from independent owners who really care about their guests and have a passion for the areas and communities in which they live and work.
You can see more details of the hotels, their locations and facilities by clicking on the 'Full Details' button of any particular tour on our website and we'll send you details of the accommodation we would specifically recommend for you as part of your detailed personal quotation package.
Please bear in mind that in many locations there may be alternatives to the hotel we show in the tour. Talk to our friendly experts or send us your requirements in order to ensure you get the accommodation  which suits you best.

Enhanced Independent Travel
Our tours are Independent and self-guided but they are also informed and assisted throughout. So you can enjoy the liberty of travelling at your own pace with no rigid tour schedule or pressures from the group, whilst at the same time having all the information and support you need at your fingertips.

From planning your trip to the end of the holiday we will give you all the information you need to get the most out of the process.  Right from the start we'll provide a fully detailed itinerary overview with tour map, local highlights, drive times, accommodation details and full details of what's included so you can make informed decisions about your trip.
As soon as you book you'll receive guide book(s) and touring map(s) selected by our experts covering the area(s) you'll be visiting as well as our Personal Travel App which will allow you to travel, well informed & paper-free!
Your Personal Travel App
includes all your essential documentation and so much more: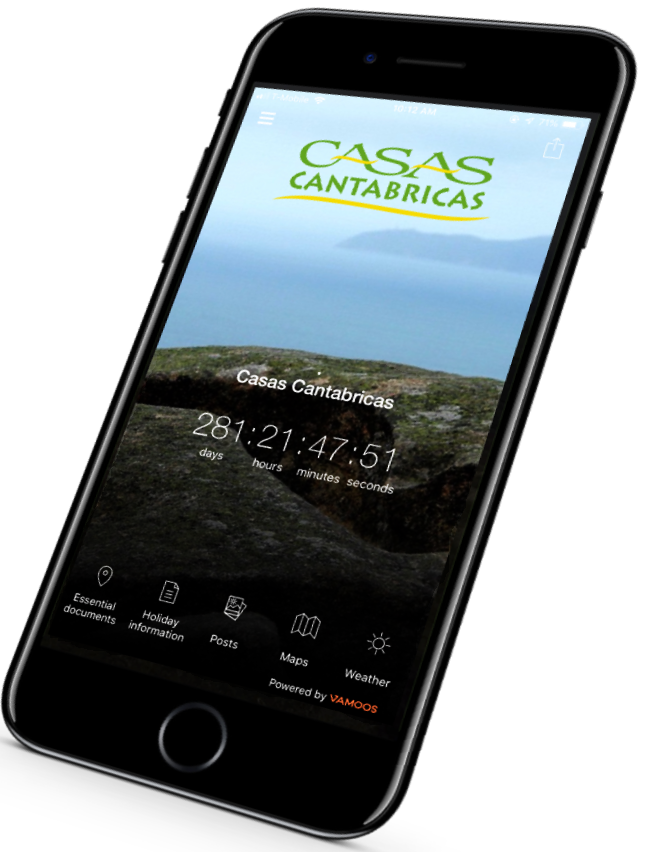 your full itinerary, letters, receipts and vouchers (copies also supplied)
accommodation information and driving routes
regional guides with insider information on the areas you will be visiting
our own restaurant guide and activity recommendations
our food guide including  essential Spanish & Portuguese phrases
digital mapping with your accommodation and points of interest built in
local weather report for each stop along the way
and so much more – all available off-line!
Helpline
Support
You'll be given a helpline number so should you need us during your trip our expert team are just a phone call away and will be more than happy to help.

Our Touring Areas
To  make planning easier we divide Spain and Portugal into five touring areas:
Northern Spain – Basque Country, Cantabria, Galicia and Asturias as well as Castilla y León
Portugal – our biggest touring area covering the whole country from Porto and the north down to Lisboa and the Alentejo in the south
Spanish Pyrenees – Navarra, Aragon and Catalunya
Andalucia – Sevilla, Granada, Cordoba and so much more
Madrid & Inland Spain – Madrid, Castilla y León and Castilla la Mancha
Cross-border Spain & Portugal – offering a taste of two countries in one trip
For more info about touring in each of these regions see our about our tours page

Longer tours & epic road-trips
For longer trips we are more than happy to put together tours which cross through and combine any or all of these regions – perhaps picking out the monumental cities, the National Parks or the World Heritage Sites. Or maybe taking a gastronomic theme, an epic coast to coast road-trip, the best bird-watching spots – or whatever takes your fancy!

Grand designs – a few examples of our tailor-made tours
We're constantly adapting and tailoring tours to suit our clients wishes – here are a few examples of 'grander designs' which we've put together recently: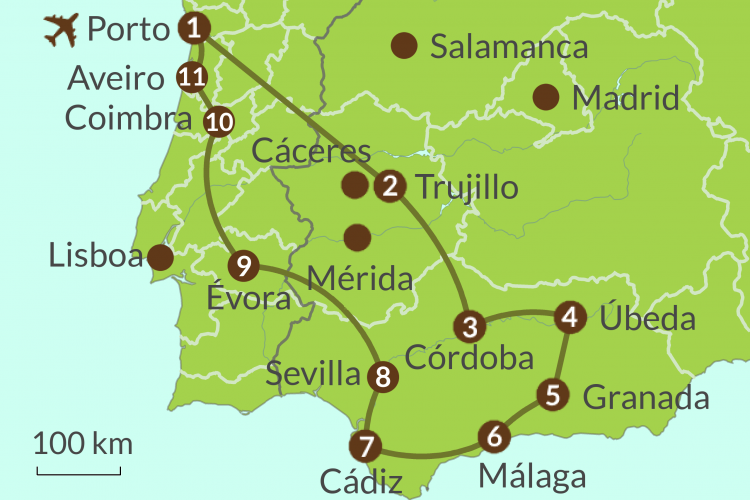 Portugal & Andalucia
A three-week, circular tour taking in highlights of Portugal with the southern Spanish province of Andalucia. The itinerary combines city stays in Lisboa, Porto, Sevilla and Granada with some lesser-known, off-the-beaten-track gems such as Úbeda, Trujillo and Aveiro.
Crammed with World Heritage Sites from beginning to end the tour crosses several major wine regions and offers wonderful regional cuisine, from the ocean and the land, at every stop.
This tour combines highlights from some of our Portugal Tours with AC2 Discover Andalucia and a stop in historic Trujillo on the trail of the Conquistadores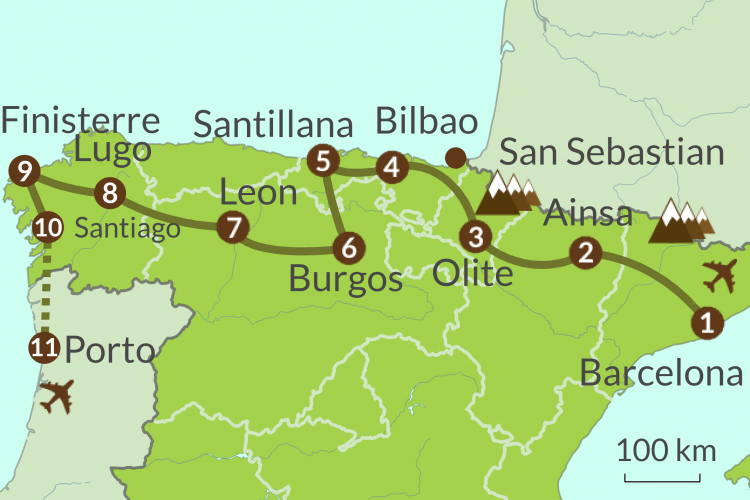 Spain Coast to Coast
A 20-day tour of northern Spain. Coast-to-coast, from east to west this tour starts in Barcelona before heading into the Spanish Pyrenees and on to the Basque Country and the verdant Cantabrian coast before dropping south and following the Camino de Santiago (Way of Saint James) all the way to Santiago de Compostela. From Santiago the tour heads west for two stops on the stunning Galician coast before dropping the car and taking the train to historic Porto
Mountains, coast, monumental Cathedral cities and medieval villages, this trip has it all – plus great food and world-class local wines from start to finish.
This tour mixes elements of PC1 Cross-Pyrenees tour with NC3 Taste of the North,  NC2 Camino Frances and PO3 Camino Portugues along with a bespoke stop in Barcelona.
Portugal top to bottom
The whole of Portugal in three weeks – from the verdant north to the wild Atlantic  through the whole Centro region to Lisboa and the Alentejo coast before finishing up in the tourist playground of the Algarve
Portugal, small but endlessly fascinating, is perfect for the road-trip of a lifetime and this trip covers it all!  From World Heritage sites to wonderful wine regions (including the world's oldest on the Douro) and bucket-list cities against a backdrop of constantly-changing dramatic landscapes – what more could you ask for?
Here we mixed our PO16 Grand Tour of Central Portugal with PO19 Discover the Alentejo and the client made their own arrangements for a longer stay in the Algarve at the end.