As keen 'foodies' ourselves, local gastronomy is always high on our list of criteria when putting together our tours – for that very reason we consider that all of our itineraries qualify as Spanish and Portuguese food tours!
Each region is different from the next and fiercely proud of its cuisine. Wherever you go you will find the very best seasonal produce, locally sourced and home cooked, at very reasonable prices.
Most of our tours will bring you through wine regions. Spanish and Portuguese wines are constantly improving and offer superb value for money. Many producers and smaller regions haven't yet made it into the supermarkets – be a little daring and you're sure to find some truly excellent wines which combine perfectly with the local cuisine.
We specialise in the lesser known areas of Spain and Portugal, avoiding the crowds. Take an independent tour and discover a different side of the Iberian Peninsula, with fantastic gastronomy, heritage and culture as well as beautiful landscapes and all the activities you can imagine.
About the tours:
Independent touring with all the info and support you need
Bespoke itineraries – designed and organised by our experts
Fly to Spain or Portugal and we'll include a hire a car
Or we'll build in the ferry travel to Spain
Request a personal quote with route map, highlights…
Travel with full directions, guidebook and touring map
Regional guides, essential docs formatted for mobile and tablet
Below are examples to give you an idea: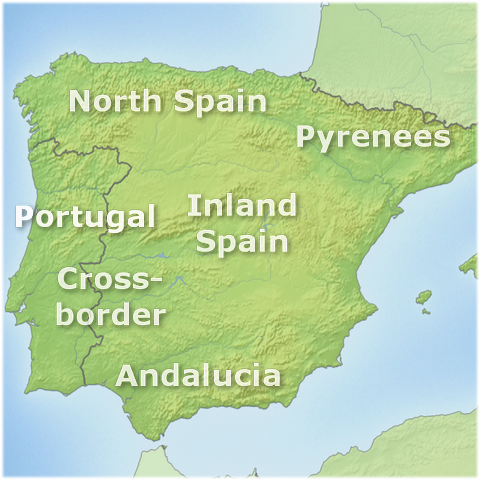 From the Basque Country to Galicia, Spain's north-west coast is rightly gaining fame on the world gastronomic stage. Michelin stars abound but the culinary tradition goes much deeper and you will find remarkably good local fare at very good prices. Fresh fish and seafood stand out but don't miss the excellent Galician beef, the bean stews of Asturias and Cantabria and of course the wonderful pintxos of the Basque country.
Here you'll find the finest cured ham in the world, the revered Atlantic bluefin tuna and arguably the best olive oil to be found anywhere alongside simpler pleasures like a well made Gazpacho or a dish of fried fish with a glass of 'fino' sherry. Apart from the myriad varieties of sherry, Manzanilla and Montilla-Moriles, you'll find some excellent reds and whites in the Sierra de Málaga and delicious dessert wines in Málaga and the Axarquia region just to the east.
Burgos lamb, Guijuelo ham, El Bierzo peppers or the famous suckling pig from Segovia. The fine olive oil and cheeses of Extremadura or lamb cutlets of La Rioja…
The cuisine of the Spanish interior is hearty and wholesome with some real treats for the discerning foodie traveller. Couple that with a truly vast selection of Spain's best wines and you're in for a feast!
Perhaps not normally considered a gastro-destination, the Spanish Pyrenees offer some fine mountain fare and a cuisine which varies from valley to valley. In the western valleys of Navarra Basque and French influences are brought to bear on the excellent local ingredients. In the central valleys there are wonderful meat dishes and stews and in the east the Garrotxa region offers its own twist on things with Cocina Volcanica. You'll also find some surprisingly good wines along the way, not least in Somontano, a long term favourite of ours.
It is said that the Portuguese say "I love you" through food. The gastronomy is simple but flavourful, with the emphasis on quality ingredients. Signature dishes are Caldeirada (seafood stews) and Bacalhao (salt cod) and the northern hills are well known for their pork dishes, roast kid and beef. Accompany these with a superb variety of wines, from the Vinho Verde from the far north to the exquisite reds of the Dao,the Alentejo and the Alto Douro – the oldest demarcated wine region on Earth – and of course, the classic Ports.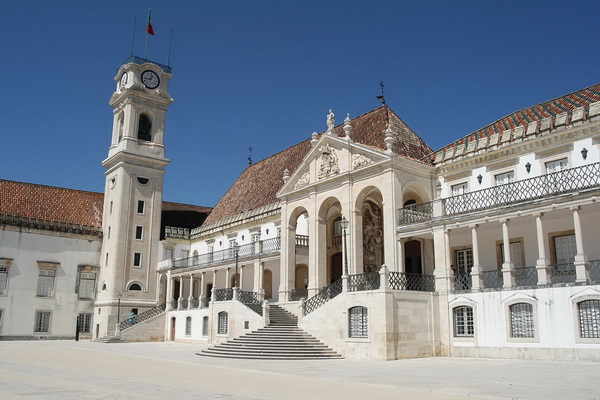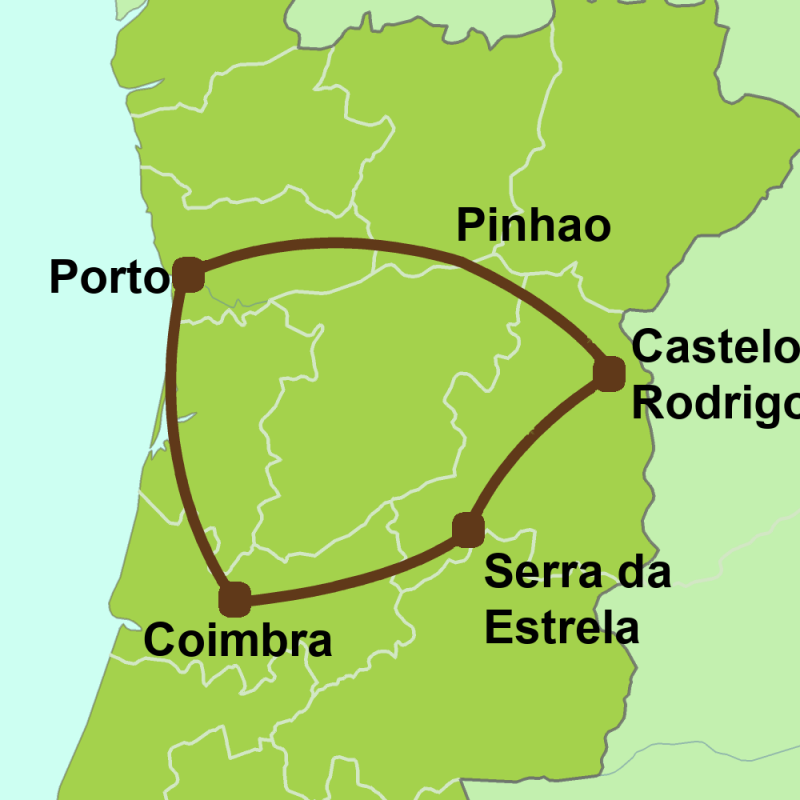 Romantic delights of old-world Porto and the Douro Valley plus the charming region of Las Beiras.
14 days recommended but can be adjusted as required
Price per person shown includes:
14 nights bed & breakfast
4 door car with excess insurance
guide book and touring map
travel app & doc manager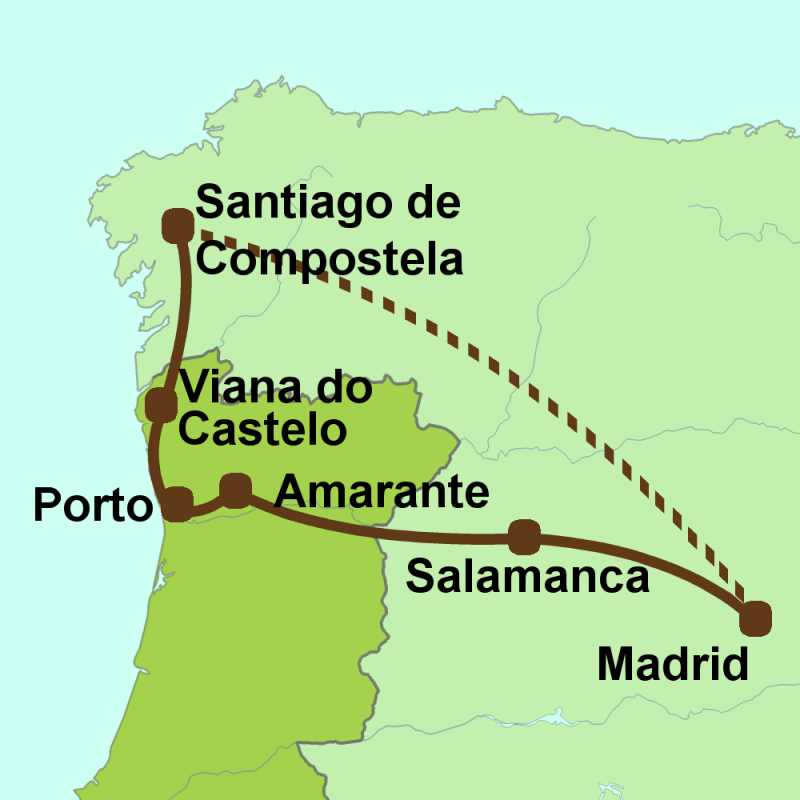 The best of north west Spain & Portugal, starting from Madrid, through monumental Salamanca, discover northern Portugal and finish in historic Santiago de Compostela.
We recommend 14 days but can be adapted to suit your needs.
Price per person shown includes:
14 nights bed & breakfast
4 door car with excess insurance
guide book and touring map
travel app & doc manager
Food Tours Spain & Portugal – Casas Cantabricas Food guide
Travel with Casas Cantabricas and you'll receive our food guide with vocabulary with all the foodie terms you really need to know as part of your Vamoos e-document manager application. You'll also get a regional guide including where to eat, vineyards to visit and local specialties.
And you can always call our expert team for help and advice before you go – we'd love to hear from you!